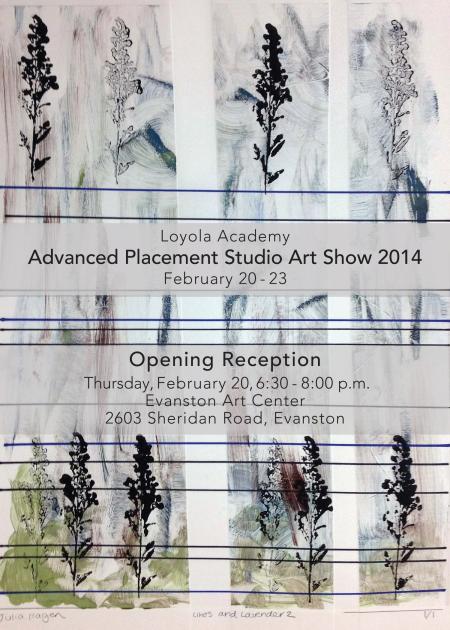 We hope you'll stop by and see the amazing diversity of artworks from this local high school's advanced placement art students. The level of sophistication in technique and intentionality is truly awe-inspring. This will be the fourth year that the Evanston Art Center and Loyola Academy have partnered on this special exhibiton of student work. The students learn firsthand what is entailed in planning and installing an exhibition. They learn how to negotiate a gallery space and how to support and showcase each others' artworks. On the opening night, the students excitedly practice presenting their work to a wider public.
Bravo to the dedicated art teachers and leadership of Loyola Academy. Their belief in the importance of the arts in educating our youth definitely needs to be applauded and celebrated.
Opening Reception for students, faculty and supporters will be Thursday, February 20, 6:30pm – 8pm. General public viewing will be Friday, February 21 from 10am to 4pm, Saturday, February 22 from 10am to 4pm, and Sunday, Februrary 23 from 1pm to 4pm.