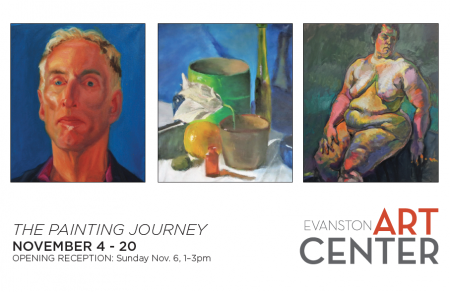 November 4 – 20, 2016
Opening Reception: November 6, 1-3pm
The Evanston Art Center Painting and Drawing department presents The Painting Journey, a studio exhibition featuring artworks by students of Ken Minami's 'Ensemble of the Portrait', 'From Still Life to Real Life', 'Drawing & Painting the Portrait', and 'Drawing & Painting the Nude: The Long Pose' classes.
"We shall not cease from exploration. And the end of all our exploration will be to arrive where we started and know the place for the first time." -T.S. Eliot
Studying painting is like climbing a slippery mountain where you fall down a lot. Just when you want to give up you start to see an amazing possibility just beyond your reach. It keeps you on the path. The greatest reward of painting is to learn to see like a painter. It's the discovery that what you thought was seeing was only one way of doing it. Please join us to witness these Evanston Art Center students' beautiful and brave journeys. -Ken Minami, instructor
Gallery Hours
Monday - Thursday: 9 am - 9 pm

Friday: 9 am - 5 pm

Saturday and Sunday: 9 am - 4 pm
Galleries are handicapped accessible.

Exhibitions are free and open to the public.