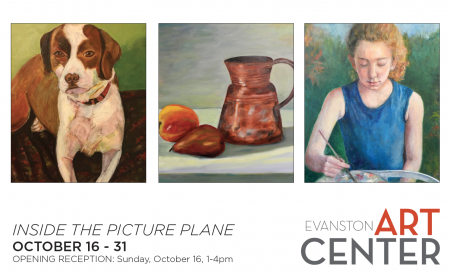 October 15 – 31, 2016
Opening Reception: Sunday, October 16 from 1-4PM
The Evanston Art Center Painting and Drawing department presents Inside the Picture Plane, a studio exhibition featuring artworks by students of Jill King's 'In the Studio Drawing and Painting' and 'From Black and White to Color' classes.
FEATURING
Christina Brandt, Marion Casey, Barbara Dershin, Jacqueline Granat, Joyce Harris, Lois Hauselman, Rita Alfonso LaBarbera, Philip Loftus, Ellie Routtenberg, Marcia Sawa, Margaret Shell, Milly Silverstein, Alice E. Strening, Gia Tassy and Kim Thavis.
Jill King has been teaching adult/teen drawing and painting classes at EAC since 2008. Here is a glimpse into the works of her talented and self-motivated students. King's students explore a wide range of mediums and themes within the two-dimensional picture plane and bring the blank rectangle to life by building relationships between their minds and chosen mediums. Students work in a variety of materials such as: charcoal, pastels, pen and ink, watercolor, oils and acrylics.