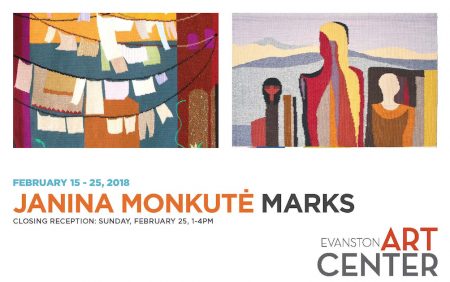 February 15 – 25, 2018
Closing Reception: Sunday, February 25 from 1 – 4pm
Janina Monkutė Marks was born in Radviliškis, Lithuania on September 21st, 1923, and passed away on November 13th, 2010. In the autumn of 1944, because of the war, Janina was forced to relocate to Germany. From 1945 to 1947, she studied archaeology, art history and Romans languages at Innsbruck University in Austria. In 1947- 1950 attended École des Arts et Métiers in Freiburg, Germany. There she acquired her skills in the visual arts: studied textile methods, drawing, and graphics.
In 1950, Janina emigrated to the USA. After 1956, she actively practiced as an artist in Chicago, studied and worked with many artists, such as Don Baum, Claude Bentley, Harry Bouros, Harold Haydon, and Viktoras Petravičius. She was closely associated with the Hyde Park Art Center and B.I.G. Arts Center in Sanibel Island, Florida. Since 1972, Janina Marks started organizing the popular "Annual Members Exhibition" in Hyde Park Art Center in Chicago and in 1974, she became one of the founders and leaders of the Lithuanian Woman Artists Association in Chicago.
As art critic Danas Lapkus commented, "Janina Monkutė Marks attained an important place in Lithuanian and American art, especially for her work in the field of textiles. Recurrent invitations to participate in juried American and international exhibits are proof of her artistic success.  But one needs only to look at the paintings, prints, and textiles where the ironic and the tragic, the religious and the liberal, primitive and modern are elegantly combined to really appreciate the importance of Janina Monkutė Marks' art."
Janina's interest in Lithuanian folklore and her collection of ethnographic art naturally led her to folk art as a source of wisdom. Her work shows experimentation with collage and gesso priming and they work to instill a sense of melancholy in the viewer and many of her pieces are reminiscent of the mandala, the visual symbol created by Hindus and Buddhists and her prints combine the rough shaping of individual forms and geometric ornaments. Through the use of traditional Lithuanian artistic elements, she consistently uses motifs of road and journey, symbolizing the quest for the meaning of life.
Janina Monkutė Marks' works have been exhibited in the Chicago Art Institute, The North Shore Art League (Winnetka, Illinois), Dunes Art Foundation (Michigan City, Indiana), Sun Times Gallery (Chicago, Illinois), Big Arts (Sanibel, Florida) and the Old Water Tower Place (Chicago, Illinois). She had more than twenty one-person shows. Janina constantly took part in the exhibitions of the Lithuanian Art Centers, such as Balzekas Museum of Lithuanian Culture, Čiurlionis Gallery, and Lithuanian Art Museum in Lemont.
Gallery Hours
Monday - Thursday: 9 am - 9 pm
Friday: 9 am - 5 pm
Saturday and Sunday: 9 am - 4 pm
Galleries are handicapped accessible.
Exhibitions are free and open to the public.
Date:
Thursday, February 15, 2018 - 9:00am

to

Sunday, February 25, 2018 - 9:00pm