ON VIEW: February 27 - April 4, 2021

Meet the Artist: Sunday, February 28, 2021 | Registration is required.
Virtual Artist Talk: Thursday, March 4, 2021 | Registration is required. 
Michael K. Paxton is a sixth generation West Virginian and Chicago based artist with awards that include a grant from the Adolph & Esther Gottlieb Foundation, Inc., New York; Illinois Arts Council Fellowship in Visual Art Award and two Professional Development Grants; Fellowships with both Air le Parc, Project and Research Center, Pampelonne, France and Jentel Artist Residency Program, Banner, Wyoming; a Marshall University Alumni Award of Distinction; six Professional Development Grants from Columbia College, Chicago; two CAAP Grants,. Chicago, IL; Open Studio Residency, Department of Cultural Affairs, Chicago, IL and a Purchase Prize, Union Images: 100 Years of the Chicago Federation of Labor, Chicago, IL.
Selected major one-person exhibitions include the forthcoming Interpolations, Evanston Art Center, Evanston, IL; "Raw Reckoning", Ukrainian Institute of Modern Art, Chicago; Pillars of Dust, Heuser Art Center, Bradley University, Peoria, IL; past major exhibitions with Miami University Museum of Art, Oxford, Ohio; Chicago Cultural Center, Chicago, IL; Linda Warren Projects, Chicago, IL; Linda Matney Gallery, Williamsburg, VA.; Laura Mesaros Gallery, West Virginia University; Loyola University, Chicago, IL; Noyes Cultural Center, Evanston, IL; Byron Roche Gallery, Chicago, IL; Gescheidle Gallery, Chicago.
Recent group exhibitions include 10th Anniversary Exhibition, Linda Matney Gallery, VA, Currents Art Fair, Richmond, VA; Appalachian Futures, WVU Library, Morgantown, WV;  "Locus", Mason-Scharfenstein Museum of Art, Cornelia, GA; "Obsession, Improvisation, Collaboration", Governors State University, University Park, IL.; "On Big Drawings", Averill and Bernard Leviton A&D Gallery, Columbia College, Chicago; "Between Rock and an Art Place', The University of Georgia Lamar School of Art Gallery, Athens, GA.; New Country, Morehead State University, KY; Moments of Grace, Muskegon Museum of Art, Muskegon, MI and A Sense of Place, Suburban Fine Arts Center, Highland Park, IL.  
The documentary film, Work at Hand, Michael K. Paxton, has been recently broadcast on WVPBS; featured in screenings at the CAA Annual Conference, Chicago, IL; Raleigh Studios, Los Angeles, CA; Peninsula Fine Art Center, Newport News, VA; Wealthy Theater, Grand Rapids, MI; Chicago Filmmakers, Chicago, IL. and was Official Selection of the 17th Annual Great Lakes International Film Festival.
A few of his major commissions are with the 7th District Federal Reserve Bank, Chicago; Christel De Haan Collection, Zionsville, IN; Jensen Metal, Inc. in Racine, WI, and a wall-size drawing installed into the Kirkland and Ellis collection in San Francisco. With a long list of critical reviews and features about his work, he has also been published in New American Paintings; featured artist/educator in issue 8 of Line Work; been the subject of both radio and television features on NPR, Chicago and WVPBS and honored to have been selected and published in Art and Soul, that highlighting fifty of the most noted West Virginians in the Arts.
He is an adjunct faculty member of Columbia College, Chicago since 2005 and has a BA in Art from Marshall University, 1975 and an MFA in Drawing and Painting from The University of Georgia, 1979. 
ARTIST STATEMENT
In the beginning I became intrigued by the multitude and varying types of sonograms that are produced by ultrasounds. I pursued these mysterious images as they pointed to an opportunity to investigate both observed reality and abstraction at the same time. Having no interest in illustrating these sources my goal was to use the sketches I made of these found images as a route towards creating a new series of drawings and paintings. Early in their development the concept of interpolation also started to percolate as I started working. With all that said I am sure that making this work during the current pandemic with the silent nature of the virus led me directly towards a medical source where internal possible problems are made visible through sound. Coupled with that is this constant and unrelenting isolation's strange effect on my focus and thinking in the way I approached the work as days, turned into months, turned into a new year.  
---
Virtual Artist Talk: March 4, 2021
Virtual Studio Tour: April 2020
---
GALLERY HOURS & VISITOR INFORMATION FOR COVID-19 GUIDELINES
This exhibition will be held in the First Floor Gallery of the Evanston Art Center (EAC). When arriving at the EAC during our Gallery Hours, please wait outside and call us at (847) 475-5300 for entry. All visitors are required to wear masks and take their temperature upon entry using provided gloves, and share results with an EAC staff member. Please adhere to 6' social distancing requirements when in the gallery space. 
Gallery Hours
Monday - Friday: 1 pm - 6 pm
Saturday & Sunday: 9 am - 4 pm
---
HOW TO PURCHASE ARTWORK
If you are interested in purchasing artwork on display, please contact Cara Feeney, Director of Exhibitions, at [email protected] or (847) 475-5300 x 107.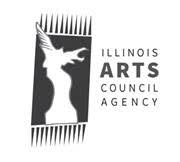 This project is partially funded by the Illinois Arts Council, a state agency.