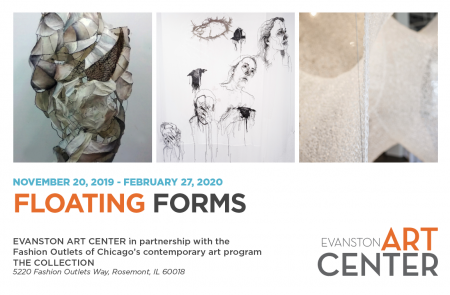 November 20, 2019 - February 27, 2020
LOCATED AT THE FASHION OUTLETS OF CHICAGO (5220 Fashion Outlets Way, Rosemont, IL 60018)
In partnership with the Fashion Outlets of Chicago's contemporary art program THE COLLECTION, the EAC presents an offsite exhibition featuring work by Paula Froehle, Jill King and Katrin Schnabl in collaboration with Anne Guitteau.
Floating Forms fills each rotating exhibition case with multidimensional pieces that push the boundaries of sculptural forms, showcasing themes of materiality.
Artwork: Jill King, "Weathered Shell," 2017; Paula Froehle, "Grief," 2019; Katrin Schnabl in collaboration with Anne Guitteau, "I Won't Go Away," 2019
CLICK HERE to view images from the Artist Reception.
ABOUT THE ARTISTS
PAULA FROEHLE
Paula Froehle is a film director, visual artist, educator and entrepreneur.
As a filmmaker she has directed 12 films and 20+ media projects. Her directing credits include her feature-length documentary, ÔÇ£The Show Must Go On, An Intimate Portrait of The Flying Wallendas,ÔÇØ which is distributed by MVD Entertainment Group.
As a visual artist she explores new approaches to traditional mediums, most recently blending portraits and stitching to create "floating drawings".
As an entrepreneur she has been involved in the founding of several startups, including Opal Pictures design & film production company; Tribeca Flashpoint Media Arts Academy media arts college (as Founding Academic Dean), and Chicago Media Project, a member-based nonprofit dedicated to supporting impact documentary work and presenting the DOC10 Film Festival each year. She is also co-founder & co-fund manager of CMP Invest/Impact (CMP I/I) one of only two equity funds in the US to invest in documentary films as a "pay it forward" approach in supporting documentary work.
Ms. Froehle received her MFA from the School of the Art Institute of Chicago, and her BFA from the Columbus College of Art and Design. She lives in Chicago with her two grown children, Grace, the artist, and Alexander, the entrepreneur, and Charlotte, their fluffy cockapoo.
JILL KING
Jill King's work has been exhibited in private and public spaces such as: The Harris Theater -Millennium Park-Chicago, The Garfield Park Conservatory, Art Prize- Grand Rapids, MI, and The Ukrainian Institute of Modern Art in Chicago. King has been commissioned to create sculpture for both private and public collections, including; The Lorraine Morton Civic Center in Evanston, IL, Richland College, Decatur, IL, and Lewis University (Science Building), Romeoville, IL. King served as Education Chair on the Board of Directors for Chicago Sculpture International, from 2015-2018, where she spearheaded lecture series, educational workshops and events to promote the organizations members composed of 150 professional sculptors. King maintains her studio in her home town of Evanston, IL. In addition, she currently teaches adult art enrichment courses at the Evanston Art Center and at The Art Center Highland Park. She is currently a Core Member of a cooperative gallery called Space 900 in Evanston, which offers her and other artists in the community, exhibition and performance space.
KATRIN SCHNABL in collaboration with ANNE GUITTEAU
Katrin Schnabl is a designer, artist and educator. A trained dancer and skilled pattern-maker, Schnabl fuses her two passions to create sophisticated and modern clothes that move sensuously on the body. She has designed for acclaimed dance companies and art performances, which remains an important part of her creative practice. The process of imbedding meaning into pattern-making techniques also informs much of the artistÔÇÖs recent installation work. By placing her hand-cut and sewn assemblages into unexpected locations, she heightens our perception of clothing as a membrane that filters information between individuals and their shifting contexts and interactions. Through distinct capsule collections, the German-born designer also continues to refine her esthetic since launching her first collection in New York in the late ÔÇÿ90s. Through her clothing and accessories, Schnabl strives to empower women by creating items reflecting their dynamic lives. In 2004, Schnabl was invited to teach at the School of the Art Institute of Chicago, where she currently serves as the Associate Professor and Sage-Endowed Chair of Fashion in the Department of Fashion Design.
Anne Guitteau is a knitwear designer and artist. Her work explores the complex relationship between fashion, form and function, blurring the line between garment and sculpture. Combining traditional techniques and alternative materials, she lets her shapes form organically and playfully.  
Her work has been featured in prominent fashion publications including HarperÔÇÖs Bazaar, WWD, Elle Magazine, and the cover of the Chicago Tribune style section as well as on the runway during New York Fashion Week and at The Walk, SAICÔÇÖs annual fashion show. Her work has been displayed in the Sullivan GalleriesÔÇÖ 2014 Graduates Show, and the 2015 BFA Show.  
-- 
"I Won't Go Away" is knitted from used dry-cleaning plastic bags. These bags have no further use and become immediate waste. The artists repurpose the discard, and cut the clear plastic into strips to make yarn for something new. The technique of knitting allows this work to be both a flat or a shaped surface and to grow continuously.

"I Won't Go Away" is knit to fit this glass tank, while it is also a component of a much larger structure that can be walked into. The artists want you to be able to step into this experience, and feel it with your whole body.  This highlights the ongoing problem of packaging that is made to be thrown away, but wonÔÇÖt go away.

The larger collaboration ÔÇÿGYREÔÇÖ was first presented at the Evanston Art Center during the ÔÇÿShape of NowÔÇÖ closing exhibition, curated by Katrin Schnabl, in 2018, and has been exhibited at Facility ChicagoÔÇÖs ÔÇÿDisturbed AwakeningÔÇÖ show, curated by Nick Cave in 2019.
FASHION OUTLETS HOURS
Monday - Saturday: 10am - 9pm
Sunday: 10am - 7pm