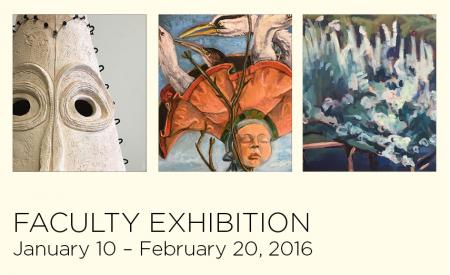 JANUARY 10 - FEBRUARY 20, 2016
OPENING RECEPTION
ÔÇïSUNDAY, JANUARY 10, 1-4PM
The Evanston Art Center is proud to present the 2016 Faculty Exhibition. This exhibition demonstrates the talents of over 30 Evanston Art Center faculty members comprised of a dedicated group of teaching artists working in a wide array of mediums. Artwork from each EAC department is showcased including ceramics, digital and 3D arts, drawing, painting, fiber, figure sculpture, jewelry, photography, and printmaking. 
Many of the EAC faculty members are local Illinois based artists, with MFA degrees from some of the most prestigious arts schools including Columbia College, the School of the Art Institute of Chicago, and the École Nationale Supérieure des Beaux Arts in Paris, France.
Faculty:
Matt Bodett
Kathy Cunningham
Darlys Ewoldt
Linny Freeman
Barbara Goldsmith
Lisa Harris
Vincent Hawkins
Katherine Hilden
Michael Jackson
Sarah Kaiser-Amaral
Diana Kast
Bonnie Katz
Jill King
Michelle Kogan
Galatea Kontos
Devin Mawdsley
Ken Minami
Didier Nolet
Duffy O'Connor
Sheila Oettinger
Leslie Perrino
Sandra Peterson
Janis Pozzi-Johnson
Jennifer Presant
Robin Samiljan
Angela Schlaud
Nancy Sickbert-Wheeler
Jennifer Small
Eleanor Spiess-Ferris
Kasia Stachowiak
Cheryl Steiger
Megan Sterling
Janice Sugg
Jill Sutton
Susan Tecktiel
Derek Weber
Nina Weiss
Gallery Hours
Monday - Thursday: 9 am - 9 pm
Friday: 9 am - 5 pm
Saturday and Sunday: 9 am - 4 pm
Galleries are handicapped accessible.
Exhibitions are free and open to the public.