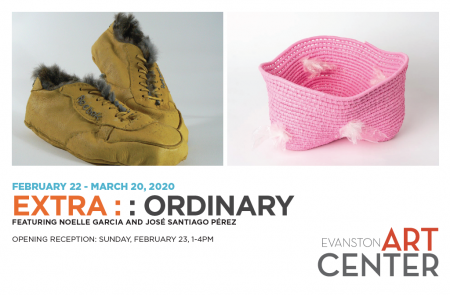 Featuring Noelle Garcia and Jose Santiago Perez
February 22 - April 30, 2020
Opening Reception: Sunday, February 23 from 1-4pm
Noelle Garcia and Jose Santiago Perez present recent work that uses traditional craft processes to transform everyday objects and materials into exuberant works of contemporary art. 
Based in the Chicago area, Noelle Garcia is an artist and educator who focuses on themes of identity, family history and recovered narratives in her work. She is an indigenous artist from the Klamath and Paiute tribes from Oregon and Nevada. She has earned degrees from the School of the Art Institute of Chicago, and the University of Nevada Las Vegas. Her paintings, drawings, and soft sculptures have been exhibited in galleries and institutions across the United States. Garcia has earned awards and fellowships at various institutions such as the SmithsonianÔÇÖs National Museum of the American Indian, the Nevada Arts Council, and the American Indian Graduate Center.
Jose Santiago Perez is a Chicago based artist from Los Angeles and is a 2019-2020 HATCH resident at the Chicago Artist Coalition. He has participated in group shows in Los Angeles, San Francisco, Chicago, Philadelphia, and Boston. Solo exhibitions of his craft based sculptures and hangings have been presented at Roman Susan Art Foundation, Ignition Project Space, and Wedge Projects in Chicago. He has been featured in reviews and interviews in Sixty, Newcity, Art Intercepts, and most recently in Other PeopleÔÇÖs Pixels and the Archives + Futures Podcast. Jos├® has an MFA from the School of the Art Institute of Chicago where he teaches in the Department of Fiber and Material Studies.
Virtual Gallery Tour of EXTRA: : ORDINARY: