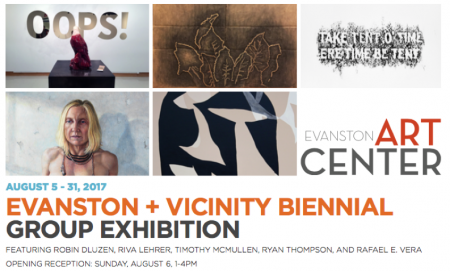 August 5 - 31, 2017
Opening Reception: Sunday, August 6 from 1 - 4PM
The 2016 Evanston + Vicinity Biennial Exhibition jurors Lela Hersh, President of the Museum and Fine Arts Consulting and Lecturer in the Graduate Department of Arts Administration and Policy at School of the Art Institute of Chicago, Monique Meloche, Owner of Monique Meloche Gallery and Lorelei Stewart, Director of Gallery 400 at University of Illinois at Chicago awarded five artists with an exhibition of their work in 2017.
From the thirty-nine artists exhibiting in 2016, the jurors selected Robin Dluzen, Riva Lehrer, Timothy McMullen, Ryan Thompson and Rafael E. Vera to exhibit in this group show. These artists will exhibit a variety of works that include a sound installation evocative of the artist's studio, botanical drawings that address industry and labor, paintings inspired by transient wall spaces often covered by graffiti, graphite rubbings that expand our notions of time and mixed media sculpture. Each of these artists' unique approach to art making will create five compelling and distinct solo shows on display throughout our First and Second Floor Galleries.
Please note Riva Lehrer, Carrie Sandahl and Christophe Preissing's sound installation will be on and available for the public at the following times:
Monday - Thursday: 7 pm - 10 pm
Friday: 4:30 pm - 9 pm
Saturday and Sunday: 9 am - 4 pm
Gallery Hours
Monday - Thursday: 9 am - 9 pm
Friday: 9 am - 5 pm
Saturday and Sunday: 9 am - 4 pm
Galleries are handicapped accessible.
Exhibitions are free and open to the public.
Date:
Saturday, August 5, 2017 - 9:00am

to

Thursday, August 31, 2017 - 9:00pm