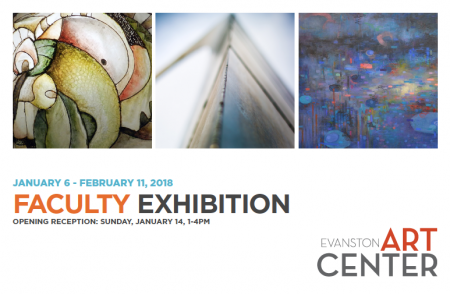 January 6 – February 11, 2018
Opening Reception: Sunday, January 14 from 1 – 4pm
A school is only as good as its faculty. At the Evanston Art Center, our outstanding teaching artists make all the difference. Through their professionalism, passion and capacity to share artistic knowledge, they continue to inspire the community and the students they teach. Our instructors are highly skilled practicing artists who help student artists at all levels define and achieve specific goals. 
Here at the Evanston Art Center we pride ourselves on offering small art classes that are inviting and comfortable. Our teaching artists treat students like artists while focusing on fundamental skills, medium techniques, conceptual foundations, making, and feedback. Class descriptions are often the vision of our art school and faculty, but remain flexible when students enter the classroom. We do not guide artistic experiences and exploration through rigidity; instead we allow students to collaborate with us on where they wish to go.
On display in our Paul Wieghardt and Nelli Barr Gallery until February 11, 2018, this exhibition creates a visual statement on the hard work and talent of our faculty. Each EAC department is represented including Ceramics, Digital Media & Photography, Drawing & Painting, Figure Sculpture, Jewelry & Metalsmithing, Printmaking, and Woodworking. Join us in supporting our EAC Faculty!
Gallery Hours
Monday - Thursday: 9 am - 9 pm
Friday: 9 am - 5 pm
Saturday and Sunday: 9 am - 4 pm
Galleries are handicapped accessible.
Exhibitions are free and open to the public.
Date:
Saturday, January 6, 2018 - 9:00am

to

Sunday, February 11, 2018 - 9:00pm