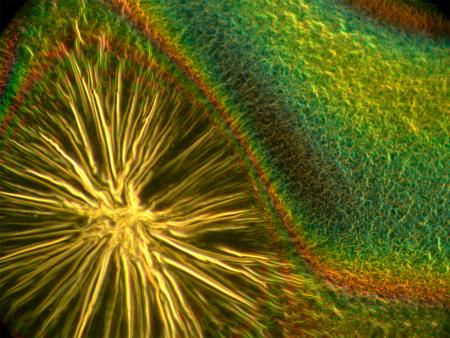 February 16 – March 2, 2012
The same scientific research that generates new understanding and innovation also brings unexpected and often breathtaking beauty. Northwestern University's annual scientific images contest, "Capturing the Beauty of Science," celebrates and showcases the aesthetic side of research, featuring the work of University faculty, students and staff in disciplines from genetics to engineering. Judged by an interdisciplinary panel of local artists, scientists and community leaders, each image comes from a Northwestern research project and cannot be fundamentally altered from its original form. In essence, the images represent both scientific data and art.
Join us at a special Evanston Art Center Exhibit through March 2 and visualize the early stages of tomorrow's technology. An opening reception on the evening of Thursday, February 16th at 6:30 pm will feature a short talk and Q&A by 2011 contest winner Andrew Koltonow. Light refreshments will be served.
Presented by Science in Society - Northwestern's office for science outreach and public engagement.