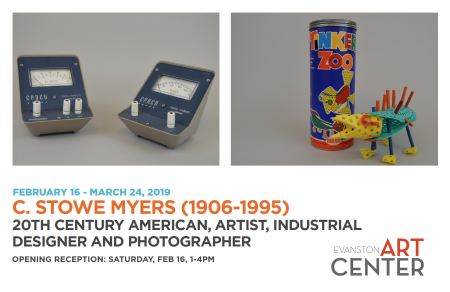 February 16 - March 23, 2019
Opening Reception: Saturday, February 16 from 1 - 4pm and Artist Talk at 3pm
C. Stowe Myers (1906 ÔÇô 1995) was a local Evanston industrial designer with clients such as the U.S. Commerce Department, Wahl Clipper, Parker Pen, Tinker Toy and many others. 
Myers was born in Altoona, Pennsylvania, and received a BA in architecture from the University of Pennsylvania. Myers joined Walter Dorwin Teague in 1934, was named a partner in 1945, and headed TeagueÔÇÖs Los Angeles office until it closed in 1949. In 1950, he was recruited by Raymond Loewy to join his New York staff, and went on to manage LoewyÔÇÖs Chicago office.  From 1954 to 1971, he headed Stowe Myers Industrial Design in Evanston, Illinois. 
Myers received many prestigious awards including Italian Triannale di Milano (11th) for a multi-use table design; he also exhibited work in the First International Exhibition (17) Nations of Industrial Design at The Louvre Museum (Paris, France) and the International Exhibition of Industrial Design 1963 at the Museum of Modern Art (Buenos Aires, Argentina). After providing consultation to a number of Chicago industrial design firms, Myers retired in 1975 and continued his avocation of landscape painting.
CLICK HERE to view images from the Opening Reception.