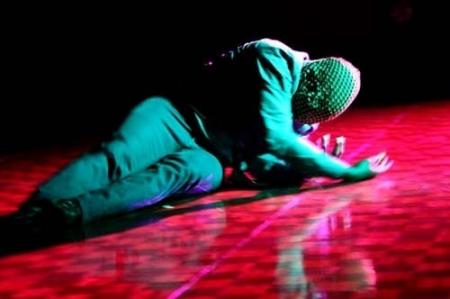 Date: 
Thu, 11/05/2015 - 6:00pm
 - 
Mon, 11/09/2015 - 7:00pm
EAC Members preview: Thursday November 5, (6-9pm)
Opening: Sunday November 8, (1-4pm)
Artist Talk: Monday November 9, (6-7pm)
Join us for Chicago-based artist barak adé soleil's exhibit TRIPTYCH: CYCLE, live performances of archived works from his engagement of ephemeral, social and political legacies within disability culture and "African Americana". These works will be re­staged within select configurations for Evanston Art Center and presented in durational cycles of up to 3 hours. This is part of adé soleil's  The BLACK | BODY curatorial project taking place in 2 other spaces. The Evanston Art Center would also like to acknowledge the 25th anniversary of the Americans with Disabilities Act (ADA) and this performance being connected with ADA25 Chicago's series of events.
In addition to the above program, the Evanston Art Center also invites you to experience a related iteration of barak adé soleil's curatorial project TRIPTYCH: CYCLE at University of Chicago's Arts Incubator. At this Southside venue, adé soleil will shift focus and context from The BLACK | BODY Re-staged exhibition at the Evanston Art Center to launch Excerpts from TRIPTYCH: CYCLE. This work will creatively address notions of ADA compliance within contemporary urban design and architecture discourse as well as directly grapple with ADA 25 years later. Excerpts from TRIPTYCH: CYCLE re-imagines Arts Incubator's space as an immersive performance environment where people of all abilities have access to a moving and multisensory experience.
Excerpts from TRIPTYCH: CYCLE
barak adé soleil
University of Chicago Arts Incubator  
Thursday, November 12, 6pm
301 E Garfield Blvd, Chicago, IL 60637
773-702-9724
http://arts.uchicago.edu/event/excerpts-triptych-cycle
About the artist:
barak adé soleil makes theatre, dance and performance art. An award-winning creative practitioner, director and community organizer, he has been working within the live arts scene throughout the US, Panama, Europe and West Africa for the past two decades; invested in engaging diverse communities. barak is the founder of  D  UNDERBELLY: an interdisciplinary network of artists of color.  His directing, performing, and creative projects speak to the expanse of contemporary art; utilizing body-based techniques drawn from the African diaspora, disability culture,  post-modern and conceptual social forms.
A newly awarded 2015 Chicago DanceMakers Forum Fellow, Barak is developing what the body knows, an expansive project deepening his focus on movement expressed from a disabled and racialized body. Other projects include: lower(the)depths, a galvanizing interdisciplinary theatre project with Montreal's diverse community; the black | body, a curatorial project  invested in progressive art by black artists across the diaspora; An Ecology of Dance, a Chicago initiative building awareness surrounding distinctive contributions of the art form throughout the city; and creative peoples caucus, a national/international platform  for exploring the intersection of live, social and civic art practices. 
Currently Barak serves on the Cultural Advisory Council for Chicago Department of Cultural Affairs & Special Events. His poetics & reflections on dance, performance and culture can be found at dunderbelly.wordpress.com.
Chicago Magazine just published an article about Barak adé Soleil. You can read the full article here: http://www.chicagomag.com/Chicago-Magazine/November-2015/Barak-ad-Soleil-Transcends-Notions-of-Disability/