ON VIEW: November 7 - December 20, 2020

Meet the Artist: Sunday, November 8, 2020
Virtual Artist Talk: Thursday, December 3, 2020
Ethereal Abstractions is an uplifting solo watercolor painting series that premieres at the Evanston Art Center, November 7, 2020 and runs through December 20, 2020. The paintings are lyrical, colorful abstractions reminiscent of organic shapes, ethereal forms and underwater landscapes - evocative impressions of spiritual and elemental worlds. They are created through a meditative, intuitive practice; the unconscious becomes conscious as colors flow across the paper and forms emerge in silence. A sense of stillness and movement are captured as images surface, blend into each other and become redefined. Ethereal Abstractions evokes the spontaneity, themes and underlying presence of the Divine Feminine - reoccurring threads that reflect and continue from Sykes's previous body of time-based and digital artwork. 
ABOUT THE ARTIST
Barbara L. Sykes was born into a family of artists, designers and inventers. Since childhood, she has produced work in a variety of different art forms. She received her MFA from the School of the Art Institute of Chicago in video, computers and performance and is a retired, tenured Professor of Television, Columbia College, Chicago (1982-2005). 
In 1974, Barbara L. Sykes (also known as Barbara Sykes-Dietze) became one of Chicago's pioneering video and new media artists – known for her tapes, multi-media installations and performances. Not long afterwards, Sykes also established herself as an independent video producer, exhibition curator and teacher. Her earlier work was painterly and exhibited unprecedented skills in electronic image generation. This groundbreaking work includes Sykes's collaborations with Tom DeFanti and their performances together during the first, live computer performances of their kind: The Interactive Electronics Visualization Event, IEVE I, 1974, The Second Electronics Visualization Event, EVE II, 1975 and The Third Electronic Visualization Event, EVE III, 1978. Sykes's later productions showcase her strength as a storyteller grounded with an aesthetic sophistication of great emotional depth that depicted the underlying sacred nature of the people and events portrayed - depicting themes of spirituality, rituals and indigenous cultures from a feminist perspective.
An award-winning artist and recipient of numerous grants and artists residencies, Sykes has traveled throughout Asia and in parts of the Mid-East and Africa in intensive research and video production for her works "In Celebration of Life… In Celebration of Death…." (a series of experimental ethnographic documentaries) and "Amma, A Documentary of a Living Saint" (an extraordinarily powerful portrayal of a world-renown woman spiritual leader and global social activist.) In 1988-1989, during her 14-month Columbia College sabbatical and Chicago Artist Aboard Artist Residency, Sykes presented her solo exhibition, "Retrospective," and her curated exhibition, "Video and Computer Art: Chicago Style," in Japan, Australia, Spain, and was the first woman video artist to present in China. Her tapes have shown extensively worldwide which include group museum exhibitions; the Museum of Modern Art, Paris, Museum of Modern Art, NYC, Metropolitan Museum of Art, NYC, Kunst Museum, Germany, Museum of Modern Art, Stockholm, Carlsberg Glyptotek Museum, Copenhagen, Museum of Contemporary Art, San Diego, Museum of the Art Institute, Chicago and Museum of Contemporary Art, Chicago. Sykes's tapes have been broadcast in Sweden, Italy, Puerto Rico and throughout in the USA, including "The Independents" on PBS nationally in 1985 and cablecast nationally in 1984. Media Burn has a selection of her tapes online and over 200 tapes of her raw footage, master edits, dubs and compilations in their archives.
Sykes was a featured artist in "Art in Chicago, 1945-1995"  - the Museum of Contemporary Art in Chicago's retrospective exhibition held in 1996-1997, and the exhibition's companion book produced for this show. Currently, she is a featured artist and contributor in the book "New Media Futures: The Rise of Women in the Digital Arts," 2018, and is presenting during the book's tours. Select grants include a National Endowment for the Arts and American Film Institute Regional Fellowship, Evanston Arts Council Cultural Arts Fund and several Illinois Arts Council Grants.
In 2017, Sykes began to paint. In 2019, her donated painting sold during "Nasty Women Evanston Art Exhibition," a Planned Parenthood Fundraiser. She paints under the name of Barbara L. Sykes. The paintings evokes the spontaneity and themes that have evolved from her previous body of time-based and digital artwork.
ARTIST STATEMENT
My life, career and art are intrinsically intertwined paths on a journey of self-discovery. I was born into a family of artists, designers and inventors. Since childhood, I have always produced art. To me, art is the creative expression of both the personal and collective experience. The process of creating art provides the artist with opportunities to discover the world around and within them, stimulating both personal growth and development. The very essence of art is that of creative birth and transformation. It is through the symbiotic relationship between the artist, their work, and the audience that the transformative nature and creative vision of new ways of understanding is experienced and released.
I challenge myself artistically, personally and professionally and strive to live a life of value and purpose. I aspire to create powerful works of art through interaction, reflection and direct action. My work is intended to be a motivating force that will help to transcend differences and speak simply, in an intimate and personal way, to the essential qualities that we all share and that unites us, while exalting the distinguishing qualities that make us unique. 
My work explores themes of spirituality, rituals and indigenous cultures from a feminist perspective – integrating poetry, dance and martial arts performances with traditional mediums as well as experimental electronic tool systems designed for artists, consumer and broadcast technologies. The work revolves around the timeless reoccurring experiences of the collective consciousness and honors the spirituality of indigenous people and their affinity to each other, the natural world and to the divine.
---
Virtual Artist Talk:
---
GALLERY HOURS & VISITOR INFORMATION FOR COVID-19 GUIDELINES
This exhibition will be held in the Second Floor Gallery + Atrium of the Evanston Art Center (EAC). When arriving at the EAC during our Gallery Hours, please wait outside and call us at (847) 475-5300 for entry. All visitors are required to wear masks and take their temperature upon entry using provided gloves, and share results with an EAC staff member. Please adhere to 6' social distancing requirements when in the gallery space. 
Gallery Hours
Monday - Friday: 1 pm - 6 pm
Saturday: 10 am - 4 pm
Sunday: 12 pm - 4 pm
---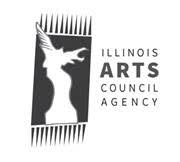 This project is partially funded by the Illinois Arts Council, a state agency.