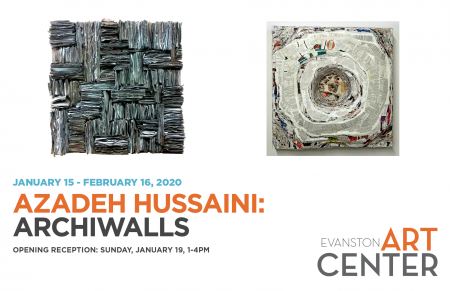 January 15 - February 16, 2020
Opening Reception: Sunday, January 19, 1-4pm
Panel Discussion: Sunday, January 26, 1:30-3pm
Join us for a panel discussion with Azadeh Hussaini and Leili Adibfar. Leili Adibfar holds an MA in English from Loyola University Chicago and is currently a PhD candidate in the Art History program at the University of Illinois at Chicago. Her primary research is on Iranian modern art after 1945.  
Azadeh Hussaini is a Chicago-based Iranian-American visual artist and art educator. She holds an MFA in Non-´¼ügurative Painting from the Academy of Art University in San Francisco and a BFA in Painting from Azad Art University in Tehran. She is also co-founder of Didaar Art Collective, a Chicago based Iranian Artists community, and curator and board member at Theatre- Y, a Chicago based theater company.
Her work embodies the exploration of her own emotional responses to her experiences while concurrently ascertaining the basic primordial desires within the human condition aspiring to discover commonalities among us while providing forums for open discussion and social assertiveness. 
Her work has been displayed in numerous exhibitions in the United States and Iran. 
ARTIST STATEMENT
My work is an abstract visualization inspired by repetitive forms in nature that implies the social behavior and relationships. 
The emphasis is on the differences that exist in each form separately and in a harmonious, not necessarily identical repetition as part of a movement, phenomenon, or social event that has evolved from the particular to the universal.
The use of newspaper metaphorically questions the contemporary human condition as it experiences daily bombardment of news and informational in´¼ültration without the opportunity or the ability to control, disseminate, validate or respond.