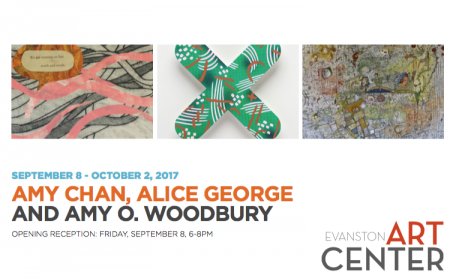 September 8 – October 2, 2017
Opening Reception: Friday, September 8, 6 – 8PM
This exhibition showcases three artists, Amy Chan, Alice George and Amy O. Woodbury, whose unique styles and use of mixed media join together to create a cohesive and vibrant display.
Amy Chan, working in a combination of gouache, acrylic, airbrush and screen-printing, creates imitations of nature that have multiplied into bizarre abstraction. Chan works from imagery sources like protozoa, minerals, coral reefs and outer space to find new shapes and patterns.
Alice George, working in monoprint, drawing, collage and photography, uses language to enrich and make her artwork more complex. Her series Metaphysical Comics explores the found language of the last words people say, sing or type.
Amy O. Woodbury paints and draws figures within dense, detritus-laden terrains and abstract expanses of water and land. Movement, intuition, line and color motivate Woodbury to think outside the canvas and utilize found objects to expand her imagination into everyday life. 
RELATED EVENTS
Thursday, September 28 from 7 – 8:30PM
In conjunction with the exhibition, Alice George will hold an artist talk and screening of her short animations.
Inspired by the animations of William Kentridge, George began animating her drawings in the summer of 2016. Some of the shorts connect to the Metaphysical Comics prints on display at EAC, exploring ways to share the last words of individuals including John Belushi and William Burroughs.
Gallery Hours
Monday - Thursday: 9 am - 9 pm
Friday: 9 am - 5 pm
Saturday and Sunday: 9 am - 4 pm
Galleries are handicapped accessible.
Exhibitions are free and open to the public.
Date:
Friday, September 8, 2017 - 9:00am

to

Monday, October 2, 2017 - 9:00pm