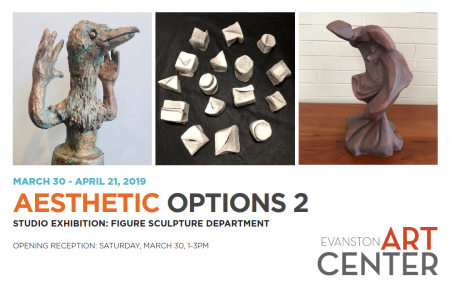 March 30 - April 21, 2019
Opening Reception: Saturday, March 30 from 1-3pm
The Evanston Art Center Figurative Sculpture Department presents AESTHETIC OPTIONS 2. This studio exhibition features artwork by students of Barbara Goldsmith and the Independent Study Class.
The students vary from novice to professional level and share a creative experience together. Many are inspired by life models while others are interested in abstract or organic forms. Everyone has the freedom to learn various sculpture techniques and methods to create unique images. The art work is of fired stoneware clay, some with the addition of mixed media and glazes. The sculpture can be large in scale while others are diminutive.
The ongoing Studio Exhibition series highlights the variety of exceptional artwork made in our EAC classrooms by featuring student work in our galleries. Each Studio Exhibition is coordinated by the instructor, who curates contemporary and thought provoking exhibitions of their studentsÔÇÖ artwork.