ON VIEW: January 7 – February 12, 2023

With bold, flat color and convoluted, suspended forms, Better Angels recalls natural forms as well as eliciting joy and grace. The sculptural pieces hover overhead, drawing our attention upward. Better Angels is a reference to Lincoln's famous speech asking us to aspire to kindness and respect, a figurative higher plane of being in the world.
ABOUT THE ARTIST
Adria Arch is a multi-media artist living in the Boston area.
Most recently, Arch's installations have been exhibited at Boston Sculptors Gallery, Brattleboro Art Museum in Vermont and at the Danforth Museum in Framingham, MA. In 2019 her work was featured at the Fitchburg Art Museum, and in 2020 at the Cahoon Museum of American Art. She has been awarded residencies at Vermont Studio Center, Virginia Center for the Creative Arts, Sanskriti Foundation in Delhi. Her work is included in many private and public collections including the DeCordova Sculpture Park and Museum, Fidelity Corporation, and the Federal Reserve Bank of Boston.
---
GALLERY HOURS & VISITOR INFORMATION FOR COVID-19 GUIDELINES
This exhibition will be held in the Second Floor Atrium Gallery of the Evanston Art Center (EAC). Masks are optional but strongly recommended for students, visitors and staff.
Gallery Hours
Monday–Thursday: 9am–6pm
Friday: 9am–5pm
Saturday–Sunday: 9am–4pm
---
HOW TO PURCHASE ARTWORK
Artwork sale proceeds benefit both the artist and the Evanston Art Center. If you are interested in purchasing artwork on display, please contact Audrey Avril, Manager of Exhibitions, at [email protected] or (847) 475-5300 x 107.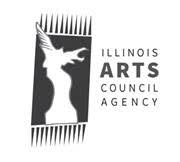 This project is partially supported by a grant from the Illinois Arts Council Agency and EAC's general membership.
Artwork Pictured: Adria Arch, Interference (detail), 2019.