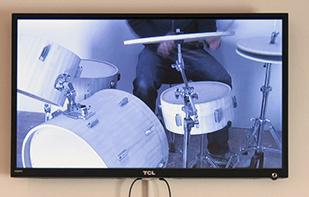 February 24 – April 7, 2013
Exhibition opens on Sunday, February 24, 2013 with a reception from 1-4 p.m. The artists will attend the opening. All artworks will be on view through Sunday, April 7. We hope you'll join us at the opening and learn more about these three contemporary artists who will demonstrate varied artistic practices and choices of materials.
We asked our fall 2012 Biennial juror, Shannon Stratton of threewalls gallery in Chicago, to select three artists from the group show for solos shows. From the forty seven artists exhibiting in the Biennial, Shannon selected Scott Carter, Stephen Cartwright and Shannon Stratton.
Scott Carter
For this exhibition, Scott will present a site-specific installation in the Evanston Art Center's octagonal gallery that references his background as a musician and artist/builder.
Stephen Cartwright
Every hour since noon on June 21, 1999 Stephen Cartwright has recorded the exact latitude, longitude and elevation of his position on the earth with a handheld GPS. His records now include more than 115,000 hourly recordings that span several continents and include some 40,000 miles travelled by bicycle. Cartwright creates multi-dimensional maps and objects from the collected data and offers a unique perspective of one person's transit through life. For this exhibition, Cartwright's installation demonstrates that visualizations can be more than just an illustration of the data—they can create new forms and topographies.
Emily Hermant
Emily's artistic practice has evolved from creating work that utilizes textile materials and processes which resonate with the history of women's labor, emphasizing their softness and malleability. In applying a "soft," "delicate" sensibility to hard, structural materials, her current work explores the boundaries often associated with "gendered" work. How drawn lines unfold in space and how to draw in space and with space in surround of the viewer, are all of interest to this artist. In this exhibition, Emily will show pieces from one of her most recent bodies of work, Spatial Drawings (2012). The often large-scale sculptures are made of interconnected, hand-bent, solid hardwood planks whose curves and twists create "drawings" in three-dimensional space. Occasional studio objects like clamps, serving as physical support, highlight the temporary nature of the work. In their malleability and suggestion of possible angles, contortions and potential corporeal energies, these stationary works of art can be seen as a performance.