Date:
Sunday, February 2, 2020 -

1:30pm

to

3:00pm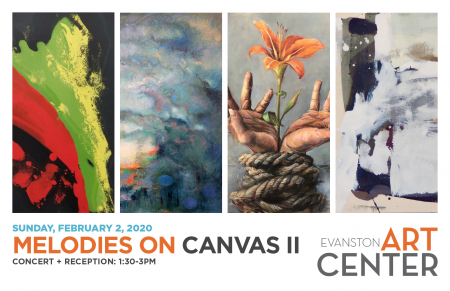 The Evanston Art Center (EAC) is excited to collaborate with students from the Academy of the Music Institute of Chicago (MIC) to create a series of four musical performances inspired by four pieces of artwork on display in the 2020 EAC Faculty Exhibition. Each string quartet will perform in the EAC First Floor Gallery in front of the artwork that inspired the piece.
Featured artwork includes The Ties That Bind by Sarah Kaiser-Amaral, Hero by Dan Sullivan, Reckoning by Jill Sutton and Gretchen by Janet Trierweiler.
Participating MIC Students include Dasani String Quartet (Isabella Brown, violin; Jasmine Lin, MIC Faculty Member, violin; Zechary Mo, viola; Brandon Cheng, cello) and Gemini String Quartet (Noelle Naito, violin; Jonah Kartman, violin & viola; Isabel Chen, violin & viola; Cameron Chiu, cello).