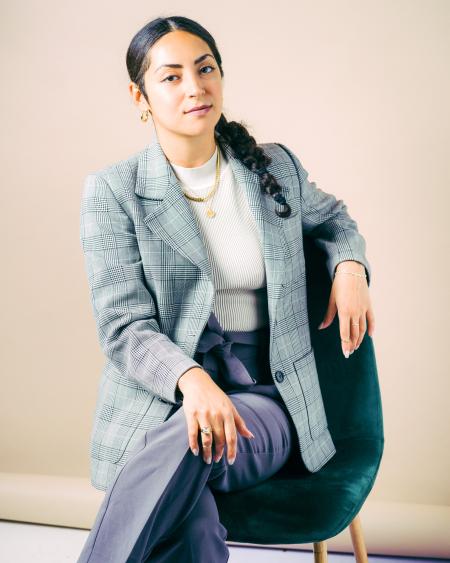 On Sunday, November 13 at 3pm, join us for a workshop, "Playing with Pay," featuring Onyx Montes. RSVP here.
This lecture is a part of the ongoing EAC series, "In Focus." "In Focus" features a variety of talks and presentations by ​artists, art professionals, historians and more!
"Playing with Pay" is a workshop covering topics of limiting beliefs, and the urgency of transparency. Through practical examples, attendees will be familiarized with strategies to negotiate and become better advocates for themselves. They will be better acquainted with resources to learn about a healthy relationship with money including pay transparency.
ABOUT THE SPEAKER
Onyx Montes is a museum worker, social media manager, and pay transparency advocate based in Chicago. Onyx moved by herself to the U.S. from Mexico, at the age of 17 and studied art history at the University of Washington in Seattle. She's the first person in her family to graduate from college. She has a Masters degree from the University of Illinois at Chicago's Museum and Exhibition Studies program, and is part of the inaugural Arts & Culture Leaders of Color Fellowship of Americans For The Arts and part of the 2022 NALAC Leadership Institute. 
Onyx has worked as a museum educator at the Metropolitan Museum of Art, the Art Institute of Chicago and the Museum of Contemporary Art of Chicago. She has taught art history workshops for incarcerated women at two penitentiaries in Mexico. She recently collaborated with the nonprofit GirlForward, teaching workshops on women in art history and creative expression through zine-making. Onyx was also a video co-producer for the 2021 Frida Kahlo: Timeless exhibition at the Cleve Carney Museum of Art. In 2021 Onyx launched a state-wide collaboration with public libraries in the state of Illinois giving pay transparency and negotiation workshops.
ABOUT THE EVENT
This hybrid lecture will be held in-person at the Evanston Art Center and virtually via zoom.
Registration required. RSVP here.