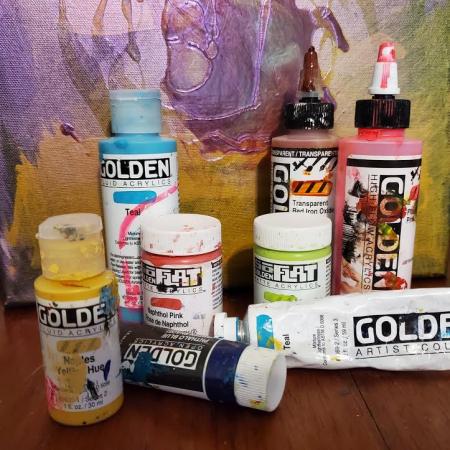 Come join us for a fun, fast paced, and free lecture/demo overviewing Golden paints!
Sign Up available vie Eventbrite here.
About this Event
We will look at our 4 lines of paints (Fluids, High Flow, OPEN and Heavy Body) and a new look at our newest paint "So Flat"- more matte than matte. We will look at iridescent and interference colors, mineral vs modern paints as well as examples of mediums, gels, and pastes . We will also look at using the gels and mediums in mixed media artworks and paintings as ground, in the paints and as topcoats.
Participants who complete a survey at the end of the workshop will receive a free, sample pack of Golden paints.
Learn more about Golden paints here.
About the Instructor:
Sandie is a versatile artist known both for her paintings and her murals. She has been a Golden Working Artist since 2007, and is an expert in acrylic paints.
This worksop will be virtual, and available via Zoom. After registering on Eventbrite, a day before the event, we will email you more information on how to log into the event via Zoom with the Meeting ID and password.