Zane, our EAC intern from China, writes about one of his favorite artworks on display in the Loyola AP Show:
Today, the Evanston Art Center display the new exhibition, about Junior & Senior High School Student. I'm a art student. When I was in the third year of high school, I started to contact art and painting. At that time, we wanted to draw the painting as realistic as possible and lay the foundation. Here, I saw a different understanding of art.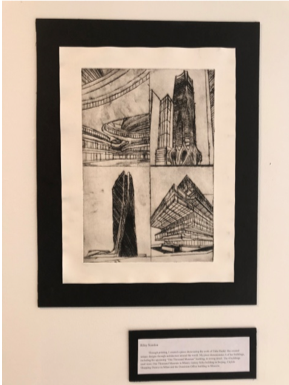 My favorite is the sketch of zaha hadid painted by riley scanlon. Because I like zaha hadid. Her work is unconventional, with rounded sharp corners, smooth curves and floating sensations showing unprecedented visual impact.
This painting including the 4 building: One Thousand Museum in Miami,Galaxy Soho building in Beijing,Citylife shopping District in Milan and the Dominion Office building in Moscow. The building I am most familiar with is the Galaxy Hoho in Beijing. I have been here once when I was in college, and I was deeply attracted by the beautiful curves of this building. Here, the building is no longer rigid, but flexible, adaptive, and fluid.
This latest exhibition made me feel affirmation of my imagination and let me know a fan of a little zaha.
CLICK HERE to learn more about the Loyola AP exhibition.
Blog Image