On Sunday, the Evanston Art Center (EAC) hosted the Grand Opening of its new location: 1717 Central Street. After moving in May, the EAC has settled into its new home. Classrooms are filled, updated programming has been added and there is a buzz of excitement in the air about upcoming exhibitions and events this fall.  
The Opening, which spanned two levels, featured stands selling jewelry and ceramics, music, dance performances, ice cream making and demonstrations from some of the various courses the EAC offers. The variety of presentations and hands-on activities that took place at the Opening parallel the EAC's guiding mission: fostering the appreciation and expression of the arts among diverse audiences.
Of the many events at Sunday's Opening, three stand out: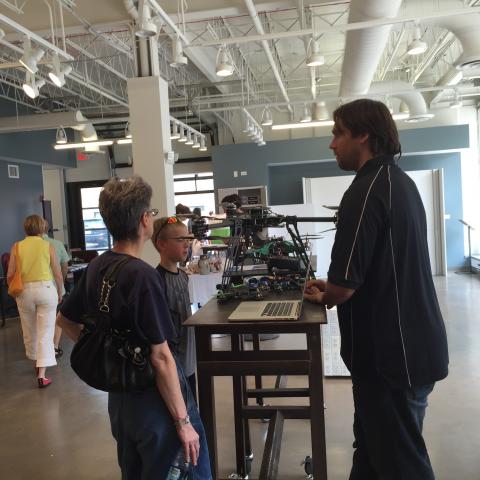 Don Miller, from Mad Lab Industries, displayed drones and discussed the drone camps and classes the EAC offers. Miller explained that Mad Lab Industries created a buildable drone kit for Einstein by Design, who has partnered with the EAC for its drone camps for kids. During these camps, kids have the opportunity to put together and fly a small drone; at the end of the camp, kids can take their drone home. Why drones? This is just one way the EAC is merging technology with art.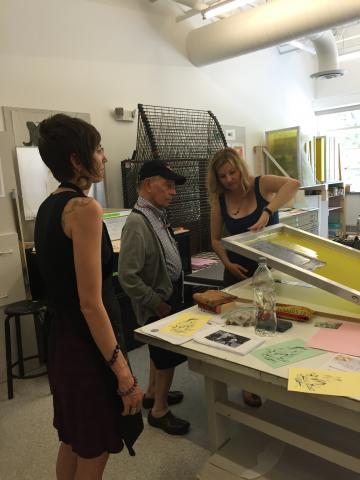 The EAC's printmaking demonstrations were also popular among attendees. Megan Sterling, studio coordinator and instructor, shared her excitement for the new location: it includes more space, new equipment and the addition of silkscreening. Although many printmaking classes are geared towards adults, there are also opportunities for teenagers, such as the upcoming "Teens and Screens" class this fall. Additional fall classes include "Multi-Level Screen Printing," a class that explores the silkscreen process, or "Intaglio," a printmaking course that incorporates an assortment of conventional intaglio methods.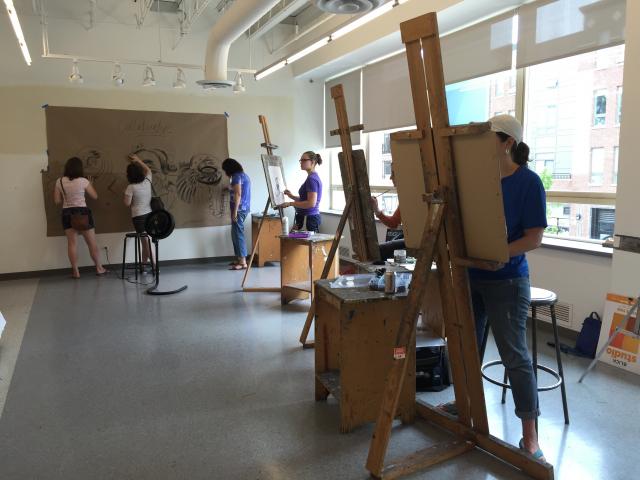 The open studios showing artists at work proved to be a highlight. In one studio on the second floor, Jill King, who teaches the EAC painting course "For the Love of Painting," described her class and techniques, as three students worked on their own art projects. Also in this classroom, visitors were invited to draw on a large, collaborative drawing, which hung on an end wall.
Did you miss the Opening on Sunday?  Not to worry. Feel free to stop by the Art Center any day of the week, and see what everyone is talking about!
Photos: Amy Haddad
By: Amy Haddad and Maeve Graham
Blog Image