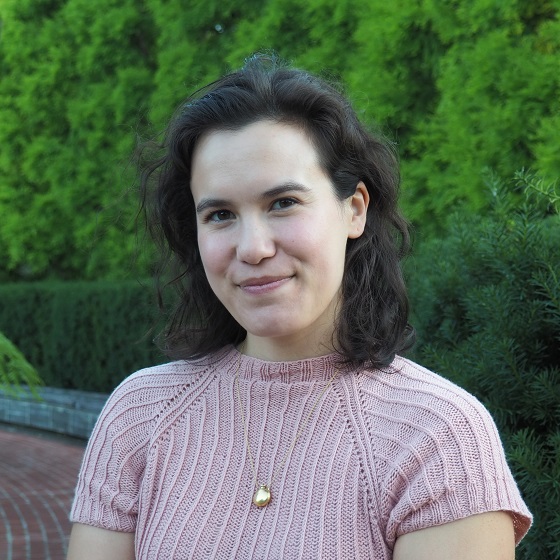 Alex Boersma is a Canadian scientific illustrator. Her work runs the gamut of science media, from figures for scientific journals to children's book illustrations. Her clients have included the Smithsonian National Museum of Natural History, Stanford University's Hopkins Marine Station, and Woods Hole Oceanographic Institute, and her work can be found in Nature, Science, and National Geographic.
Education
Vassar College, BA in Geology and Studio Art
California State University, Master's in Science Illustration
Media
Pen and ink, graphite, watercolor, gouache, scratchboard
Areas of Focus
Science illustration, botanical illustration, animal illustration, landscapes, picture book illustration
Website
Other Interests and Asperations
Hiking, paddling, woodworking, knitting, cooking, sci-fi and fantasy books
Publication Highlights
Spying on Whales, 2018
CRISPR: A powerful way to change DNA, 2020
The Whale Who Swam Through Time, 2022
Eat, Poop, Die: How animals make our world, coming 2023
Change is in the Air, coming 2024

How the world's deadliest mass extinction actually helped the rise of the dinosaurs, National Geographic 2020
How ancient reptiles were streamlined for flight, Nature Journal 2021
These fins were made for walking…and then swimming, New York Times 2022
How a salmon farm disaster changed Northwest aquaculture forever, High Country News 2022
A deadly disease stalks deer and elk. Do predators help or hurt? High Country News 2023
Alex's teaching style
Alex believes that drawing isn't a mystery—everyone can learn how to draw! She loves breaking down complex subject matter into simple steps and processes, and she adapts her teaching style to suit each student's abilities and goals—whether it's putting a portfolio together, or drawing for pleasure.
Alex loves the EAC because...
of the gorgeous building, the terrific staff, the excited students—everything!