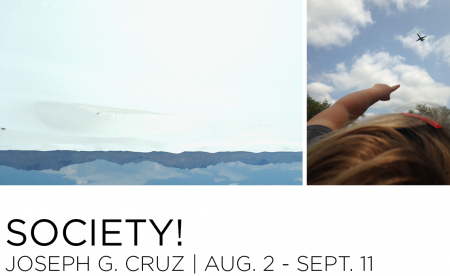 JOSEPH G. CRUZ
August 2 – September 11, 2016 
EAC's artwork-in-residence program, curated by Jessica Cochran and featuring 6 artists in rotating residencies, will continue with research-based artist Joseph G. Cruz from August 2 – September 11, 2016. Cruz's work focuses on the production and reception of information and how romanticized notions about the world come into fruition. Cruz experiments with vernaculars of representations to form visual vocabularies that comment on the relationship between science and history.
During his residency, Cruz will use EAC's space not as a site of artistic production in the physical sense: instead, he will purposefully work creatively within the curatorial and display aspects of the installation of this work as an exhibition. Throughout the month, the artist will quietly make moves and gestures with works on view, experimenting with display, didactic methodologies and ancillary programming, such as film screenings and live karaoke.
RELATED EVENTS
Saturday, August 13: Executive Order Karaoke
8:00 - 11:00 pm
Presented by Finishing School
Executive Order Karaoke was first presented as public action performed at the Museum of Contemporary Art in Los Angeles. Participants were invited to sing their favorite mixes of US President George W. Bush's Executive Orders inserted into hacked karaoke files. Prizes were awarded for best performances. Finishing School is excited to announce a brand new version, Executive Order Karaoke - The Obama Years to be presented this summer (Aug '16) at the Evanston Art Center.
Los Angeles-based, Finishing School is a socially engaged artist collective that playfully explores an expansive range of subject and media territories at the many intersections of art, play, power, politics, praxis, participation, and the everyday. The collective has five members who represent a broad range of skills and research interests. Finishing School produces interdisciplinary actions, installations, workshops, design, publications, film, studio art, performance and new media.
 
Friday, September 9: Artist Reception and Panel
6:00 - 8:30 pm
Participants: Joseph G. Cruz, artist; Jessica Cochran, curator; and Lucas Korte, artist/writer
     "How might we learn to understand the landscape on a geologic scale?
     What does the ambivalent nature of technology want in shaping our perspective?
          God knows? ... But, we have to start somewhere ...
          I know it sounds cheesey, but this is my 'somewhere'"
                                                           - Joseph G. Cruz
For the past few years, Cruz has been excavating the hidden histories and contextual relationships that have developed the technology involved, in capturing the first image of Earth from outer space. He views this moment as a starting point for the conceptualization of the term Anthropocene. This image and the complicated context surrounding its birth is disassembled through authentic artifacts, geologic material, photography, video and sculpture, and re-presented in this exhibition, and discussed tonight.
Lucas Korte received his M.F.A. from the University of Notre Dame and is currently visiting professor of drawing at the University of Notre Dame. His work deals with the nonhuman generally, originally focusing on invertebrate forms as revealed by the science of biology, with an aim towards questioning the figure of the human and the central position it has held in the universe in Western culture. More on his work and ideas can be found at shoggothkinetics.com
Ongoing Film Screenings
The following films will be shown on a rotating schedule throughout Joseph's residency:
Woman in the Moon, A film by Fritz Lang
Century of the Self, From the Award Winning Director Adam Curtis
Nostalgia for the Light, A film by Patricio Guzman
Screening Schedule
Wednesdays from 4:00 - 9:00 pm on August 17, August 24, and August 31
Thursdays from 4:00 - 9:00 pm on August 11, August 18, August 25, and September 1
The screenings will be held in the Mixed Media I classroom on the first floor.
CLICK HERE to learn more about SOCIETY! ARTWORK-IN-RESIDENCE