ON VIEW: July 11 - August 9, 2020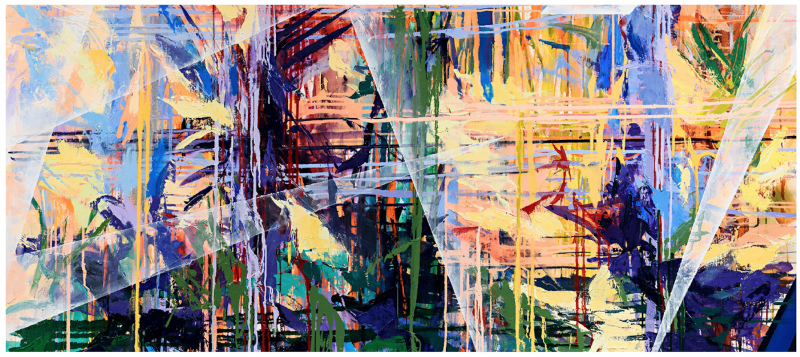 Virtual Panel Discussion: Friday, July 10 from 5 - 6:30pm
Featuring Morgan Craig & Sheri Rush, moderated by Steve Juras
Meet the Artists: Sunday, July 12 
Sheri Rush is a Chicago based painter whose practice includes photography and collage.  Rush holds a BFA from Texas Christian University and a MFA from the University of Chicago. Rush's work explores the ineradicable nature of memory and recollection, and the contemporary diminishing experience of the sublime.
ARTIST STATEMENT
Contemporary life is a virtual landscape of windows and screens. This new reality comes at some expenses we do not experience the world so much as we view it through layers and interfaces. 
My work responds to this world by exploring the relationship of personal history, landscape, the digital image and recollection. By creating large-scale paintings rooted in color, form and process I investigate the changing, contemporary experience of landscape. I use this process for personal reflection, and a means of investigating past trauma, addiction and transformation.
I begin my process by taking cell phone pictures through the windows of moving cars, trains and buses.  Using the cell phone photos as source material, I depict space, light, color and form seen through movement. Turning the paintings, I work from two directions. Vertical and horizontal drips give a sense of motion, blur forms and build space.  I simplify the reflections of lenses and windows into geometric shapes layering the translucent forms over the mark making of organic forms.  Abstracting the journey allows me to create new associations and deepen inward reflection.   
---
Virtual Panel Discussion: July 10, 2020
Virtual Studio Tour: April 2020
---
GALLERY HOURS & VISITOR INFORMATION FOR COVID-19 GUIDELINES
This exhibition will be held in the First Floor Gallery of the Evanston Art Center (EAC). When arriving at the EAC during our Gallery Hours, please wait outside and call us at (847) 475-5300 for entry. All visitors are required to wear masks and take their temperature upon entry using provided gloves, and share results with an EAC staff member. Please adhere to 6' social distancing requirements when in the gallery space. 
Gallery Hours
Monday - Friday: 1 pm - 6 pm
Saturday: 10 am - 4 pm
Sunday: 12 pm - 4 pm
---
HOW TO PURCHASE ARTWORK
If you are interested in purchasing artwork on display, please contact Cara Feeney, Director of Exhibitions, at [email protected] or (847) 475-5300 x 107.