ON VIEW: February 20 - March 28, 2021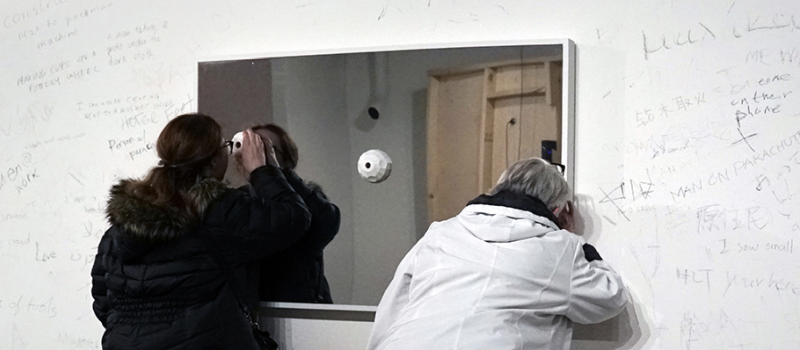 ABOUT THE ARTIST
Jiaqi Zhang is an interdisciplinary artist, creative technologist. She was born in China and now based in Chicago. She holds a BA in English Studies and an MFA in Art and Technology Studies from the School of the Art Institute of Chicago. Her works have been exhibited at venues including CICA Museum, South Korea; SLAC National Accelerator Laboratory, San Francisco; ICOSA, Austin; Old Courthouse Arts Center, Woodstock; Yoonarte Gallery, Shanghai, and others.
She actively curates exhibitions and produces media arts festivals as an extension for her practice. She is the space operator of TheNeuLithium and a committee member of Commiserate Chicago. Currently, she is a teaching artist at the Evanston Art Center.
ARTIST STATEMENT
I enjoy creating interactive and gamified experiences that cross the digital and physical realms. With a wide range of curiosities, I seek to investigate in the areas of social cognition and behavior, with a particular focus on sensory perception, emotional experience, and collective intelligence. My practice involves collaborating with social scientists, anthropologists, educational learning specialists and nonhumans through a user-centered, process-oriented methodology. Let the creative, collaborative experience itself be the manifestation of the relationship between my audience, my work, and me.
RELATED EVENTS
你吃了嘛?Have you eaten?
Artist Jiaqi Zhang invited participants to have 10 mins online chats as a virtual program at Evanston Art Center during the Shelter-In-Place Order 2020. While they spoke in their native languages, Jiaqi spoke in hers. They communicated through a translation app. They chat about random topics, shared stories during the pandemic, and they played a word guessing game.
This video is the output of two layers of translation, the first layer is the real-time speech translation during the chat, the second layer is the camera text translation from the result of the first layer. With the aid of machine translation software developed by different tech companies, the conversation has been through the process of decoding and re-encoding. The meaning has been constantly changing and will continue to change. You are welcomed to add your own interpretation in the subtitles.
Date:
Saturday, February 20, 2021 - 9:00am

to

Sunday, March 28, 2021 - 4:00pm