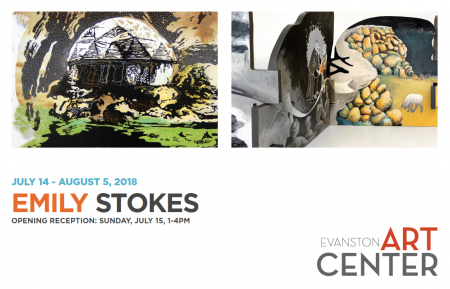 July 14 - August 5, 2018
Opening Reception: Sunday, July 15 from 1 - 4pm
Bio
Emily Stokes is an Associate Professor of Art at Northwestern College in Orange City, Iowa. She holds an M.F.A in printmaking from Arizona State University, and a B.A. in studio art and English from Wellesley College.  Raised in Ohio and Michigan, Stokes weaves together narratives with the iconography of rural vernacular culture to create her visual work.  She combines painting, printmaking, drawing, and digital imaging, building images and sculptural works not easily discernible as painting or print.  Recent achievements include a Northwestern College Endowed Research Fellowship, a Purchase Award at the 29th Annual McNeese Works on Paper juried exhibition, and an Alice C. Cole ÔÇÖ42 Alumnae Grant from Wellesley College.  Stokes has had solo exhibitions at: Illinois Wesleyan University; Northwestern College; MacRostie Art Center in Grand Rapids, Minnesota; Washington Pavilion in Sioux Falls, South Dakota; and the Krasl Art Center in St. Joseph, Michigan.
Artist Statement
My visual work stems from an investigation into the ways in which Northern Renaissance and Romantic artists staged coded imagery to build plural meanings into their work.  Casper David Friedrich, the German Romantic whose atmospheric landscapes reveal meticulous observation, and Jan Van Eyck, a Netherlandish painter who choreographed iconography to invite spiritual interpretation, serve as points of departure.  Although my work is rooted in their covert approaches to visual communication, I use a language of symbols derived from seven years of being immersed in northwest Iowa, home to the nationÔÇÖs most moneyed soil.  I have become interested in the fervent preservation of cultural heritage, the endless horizon lines, and the sense of resourcefulness that comes when ÔÇ£normalÔÇØ amenities are 60+ ice-packed miles away.  Everything seems amplified, almost cinematic in a sparsely populated place ÔÇô especially as political, religious, and demographic shifts disrupt the comforts of stasis in rural America.
Using painting, printmaking, drawing, and digital imaging, I choreograph the recurrent iconography of my immediate surroundings to suggest visual narratives.  I mount printed imagery onto organically shaped wood or interlock wooden panels to form sculptural panoramas.  My imagery includes animals such as the lamb, a nod to agriculture and the animalÔÇÖs loaded iconic value, as well as jewel-like clusters of ice or silhouetted haystacks.  The fragmented imagery that I composite together arises from encounters with beauty, generosity, humor, and conflict in a landscape that teaches keen observation.