ON VIEW: January 19 – March 10, 2023

Opening Reception: Sunday, February 5, 2-4pm. RSVP.
Eli Williamson is a photo essayist born and bred on the talented streets of Chicago's South Side. His street photography captures the intimate moments of people of African descent in the Americas and their influence on popular culture worldwide. His focus on capturing the narratives of Black Men and Boys through images is vital in addressing the stereotypes that have been detrimental to their wellness and continue to damage the cohesiveness of the communities in which they live. By combining his images with written exposition, Eli provides his audience with his unique perspective as a Black father and nonprofit leader in the community in which he lives. His images focus on the dimensions of color and texture, reciprocal relationships, interdependence, and community grit. This focus underpins his ability to capture authentic imagery of the African diaspora that is emulated worldwide. His current project, The Four Virtues, is a four-part monograph that explores and cements the virtue of Black Men and Boys as they navigate a society where the expectation of virtue is absent. The first virtue of this project is FatherHood.
ABOUT THE ARTIST
Eli Williamson is a nonprofit and philanthropy executive with over a decade of experience working to solve complex problems in distressed communities. His goal as a photo essayist is to use street photography to challenge false narratives of the Afro-American Diaspora. Eli is also the co-founder of Leave No Veteran Behind, an Illinois-based non-profit that invests in veterans to build more resilient communities. He was the former Director of Veterans Programs for the Robert R. McCormick Foundation. Eli served in Iraq and Afghanistan as a non-commissioned officer in the US Army, as a member of Psychological Operations (PSYOP), and as an Arabic linguist supporting special operations forces. Eli is a dedicated father and enjoys taking summer wilderness adventures in his camper with his standard poodle Starla.
To see more of his work, you can visit him at his website: Ghetto Efflorescence
GALLERY HOURS & VISITOR INFORMATION FOR COVID-19 GUIDELINES
This exhibition will be held in the First Floor Lobby Gallery of the Evanston Art Center (EAC). Masks are optional but strongly recommended for students, visitors and staff.
Gallery Hours
Monday–Thursday: 9am–6pm
Friday: 9am–5pm
Saturday–Sunday: 9am–4pm
HOW TO PURCHASE ARTWORK
Artwork sale proceeds benefit both the artist and the Evanston Art Center. If you are interested in purchasing artwork on display, please contact Audrey Avril, Manager of Exhibitions, at [email protected] or (847) 475-5300 x 107.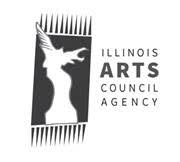 This project is partially supported by a grant from the Illinois Arts Council Agency and EAC's general membership.
Artwork Pictured: Eli Williamson, FatherHood, 2022.