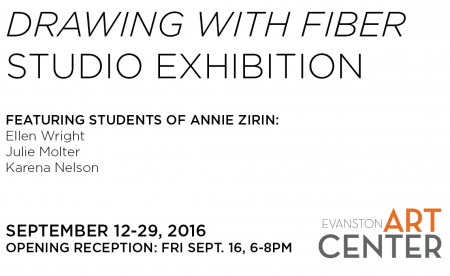 Drawing with Fiber Studio Exhibition
September 12 – 29, 2016
Opening Reception: Friday, Sept. 16, 2016, 6-8PM
Artists featured in this exhibit:
Ellen Wright
Julie Molter
Karena Nelson
This summer, Annie Zirin taught Drawing with Fiber, a class that explored the many "threads" that connect drawing and the fiber arts. Students learned fiber techniques that produce lines and images, such as embroidery, rope making, drawing on fabric and more.
This fall semester, Annie will be teaching Introduction to Fiber Arts, a class that meets Mondays from 6:30 – 9:30PM.
Gallery Hours
Monday - Thursday: 9 am - 9 pm

Friday: 9 am - 5 pm

Saturday and Sunday: 9 am - 4 pm
Galleries are handicapped accessible.

Exhibitions are free and open to the public.