Date:
Saturday, August 11, 2012 -

1:00pm

to

5:00pm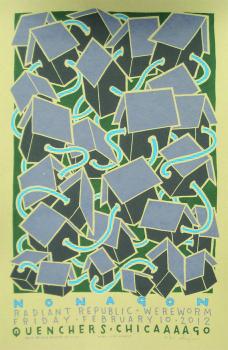 EAC's August 11th screenprinting workshop by Jay Ryan was a huge success being fully subscribed with 20 participants. Our apolgoies to those on the waiting list. We will try to get Jay back again for another workshop. Also, our own Michael Jackson, EAC teaching artist in our printmaking studio at the Noyes building, also teaches screenprinting.
Jay Ryan, an Evanston resident, has been screenprinting concert posters, hand-drawn images and hand-cut films in Chicago since 1995. In this four-hour workshop, Jay spoke about his work and demonstrated how to hand-pull a print comprised of four or five screens. He covered all aspects of making hand-pulled screenprints on paper, including some special techniques such as layering inks and using split fountains to attain a wider range of colors.
Jay Ryan is an artist with diverse talents and interests. He graduated from the University of Illinois in Urbana in 1994 with a Bachelor of Fine Arts degree in painting and moved to Chicago where he pursued his interest in music and drawing. By 1996, he was working in the Screwball Press print shop under Steve Walters where he learned Steve's special printmaking process. Jay felt he was able to combine his love of live music and creating visual art through his screen prints. He started his own band, Dianogah, in 1995 and was able to create posters related to his travels around the world with the band. Jay found his work flourished in the "Chicago Style" of poster-making where most artists print their own work, as opposed to farming out the actual printing process to professional printers.