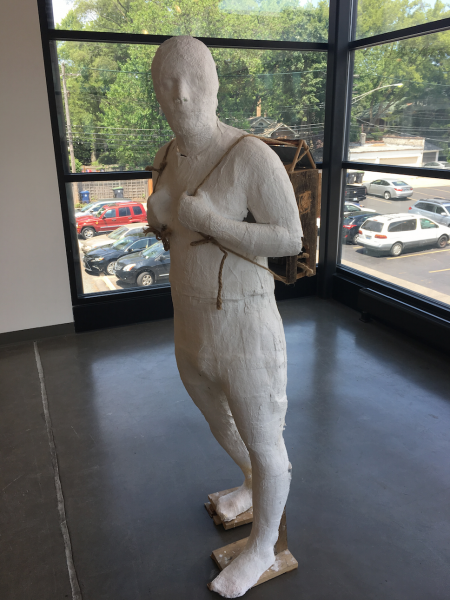 Javier Jasso's installation based sculptural work at the Evanston Art Center examines how humans respond to their surroundings, and their natural inclinations to seek a sense of home. The materials utilized by the artist mirror those used in construction ; metal, plaster, concrete, plastic and wood.
Included in the exhibitions is Javier's free standing sculpture Man with Backpack, is a full body plaster casting of the artist, holding a constructed house-like wood, and rope backpack. The plaster gauze constructing the figure might remind the viewer of bandaged casts or plastered walls and ceilings. Though the materials mirror the residential, the subject matter is transient. 
Arranged on the white wall, five pairs of white plaster hands seem to emerge, holding small model wooden houses. Some are clutched in the palms, while others are dangled like a puppet. Still others weight them against an empty hand. This work Hands and Houses, has several varieties of constructed twig houses, that seem like log cabins or temporary shelters. One pair of hands remains empty, with open palms.
Hands and Houses makes the shelter it holds seem very precious, but it is not a home is which one can reside.  Much like Man with Backpack, the materials are sturdy and domestic, but the subject matter is transitory and grappling.
In the artist's words:
"My current work addresses my perception of how humans respond to their surroundings as well as to the social and cultural issues relating to the natural inclination of searching and finding a place to call "home"."
"The human body -as a symbol and resource- is central to how I understand facets of identity. These facets allow me to connect the human body with the cultural issues such as displacement and homelessness."
Home is Where I Am will be on exhibition at the Evanston Art Center from June 2nd-June 30th, in the second floor gallery.
-Millicent Kennedy
(bottom image: Javier Jasso, Hands and Houses, 2015)
Blog Image: