The Evanston Art Center is home to one of the largest art shows in the Midwest, the Evanston + Vicinity Biennial Exhibition. The exhibition was juried by Sergio Gomez, Curator and Director of Exhibitions at the Zhou B Art Center; Aron Packer, Owner and Director of Aron Packer Projects; and Therese Quinn, Associate Professor of Art History & Director of Museum and Exhibition Studies at the University of Illinois in Chicago. These three jurors had the opportunity to award three jurors choice awards and three monetary awards to the Biennial participants. Here's a rundown of the results! 
CHRIS HYNDMAN, JUROR'S CHOICE AWARD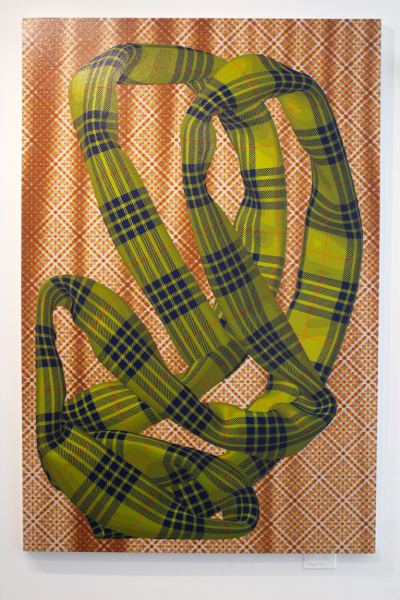 Chris is a painter from London, Ontario who divides his time between Chicago where he lives and keeps his studio, and Ypsilanti, Michigan where he teaches at Eastern Michigan University. In 2008, he was nominated for a Joan Mitchell Foundation Painters and Sculptors Grant.
The piece is an image of a curtain constructed from thousands of transparent circles. The size and format of the painting invites viewers to a) consider the image as one commonly would in terms of form, texture, content, etc. or b) acknowledge the open and contingent volumes in front of the surface and turn away, envisioning oneself as part and parcel of the painting, e.g. perhaps taking a "selfie" against the "backdrop".
ZACH MORY, MONETARY AWARD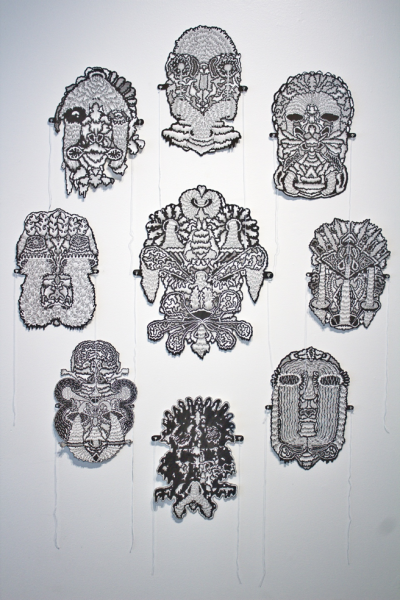 Zach Mory comes from the small town of Cottage Grove, WI, a few miles southeast of Madison, WI. In the spring of 2008, he received his MFA from UW-Madison with a concentration in drawing. His practice explores abstract and non-objective possibilities in artmaking.
Wastoid Void is a collection of non-functional masks which represent attempts to bridge the chasm between Zach's current self and memories of his younger self. These subjective representations showcase a shift from once real thoughts and feelings to something more resembling a personal mythology and memories of memories.
SANDRA LEONARD, JUROR'S CHOICE AWARD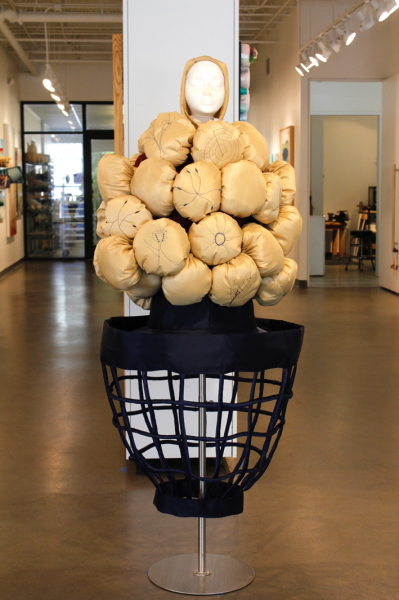 Sandra Leonard is a German-born Chicago artist with a background in sculpture, architecture, and furniture. Her focus is in sculptural clothing and performance, and the integration of sculpture and movement, demonstrated in this piece.
Girl with Poufs is a sculpture that abstracts the human form and plays with the concept of what sculpture is. It's whimsical, wearable, and traditionally constructed with a variety of textures and shapes.
MEGAN RIVERA, MONETARY AWARD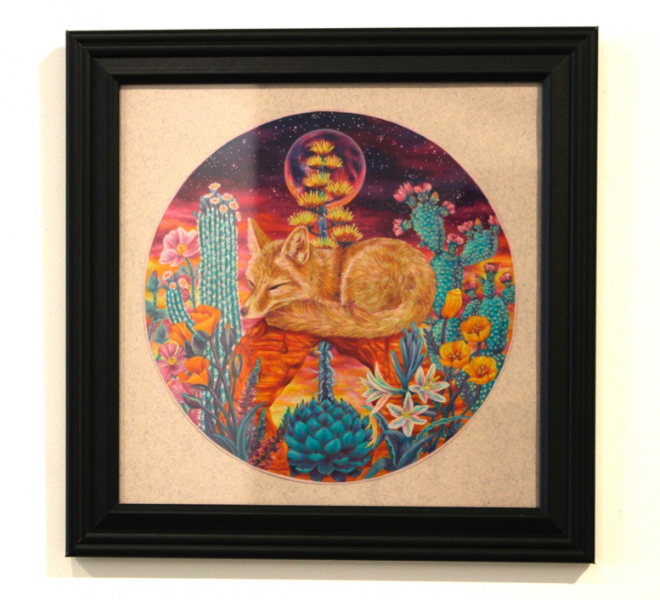 This small-but-mighty piece by Megan Rivera is the recipient of a cash prize in this year' Biennial exhibition. Megan is a third year student at Columbia College Chicago specializing in illustration, particularly colored pencil – which is used to magical effect in this piece. Her work is also informed by her love of travel, biodiversity, and detail.
Cien is named for the parry agave, a plant featured in the center of the drawing, which blooms once every one hundred hears and then dies immediately after. This drawing captures the colorful moments of beauty before the death of the agave.
MARY PORTERFIELD, JUROR'S CHOICE AWARD
Mary Porterfield is an internationally exhibited artist and occupational therapist. This piece, painted in oil on layered sheets of translucent glassine, depicts the artist's grandmother.
Mary's paintings address themes of loss of identity and degenerative disease. Her career as an occupational therapist give her unique insight into the struggle of illness.
KATHY WEAVER, MONETARY AWARD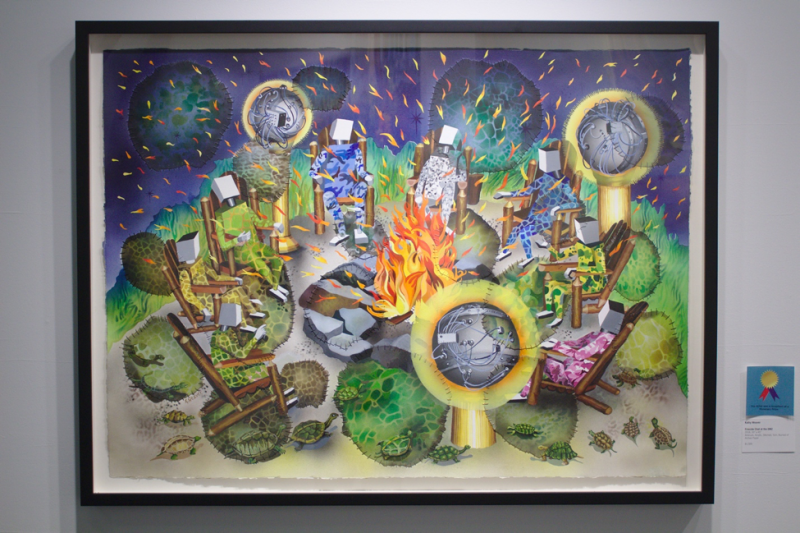 Kathy studied at the Institute for European Studies and at the Art Academy of Vienna and has traveled extensively in Asia, Europe, North Africa and South America and Cuba.
Kathy Weaver explores areas of science and technology through robots and organic macro worlds. The robots she draws and airbrushes question the status quo, examine the environment, and challenge the industrial-military complex. They explore the frontiers of nanotechnology and the cellular aspect of neural pathways. They grapple with the tragedy of war for soldiers and refugees, whether the effects of war involve limbs or injuries of a more interior kind. The robots are novel and divergent models for the human condition in the 21st century.
Learn more about the Evanston + Vicinity Biennial here: https://www.evanstonartcenter.org/exhibitions/24th-evanston-vicinity-bie...