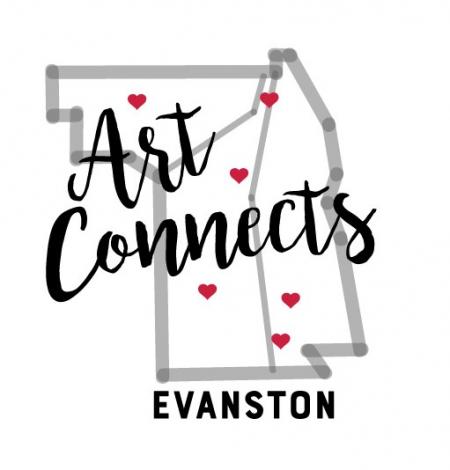 Celebrate Evanston, build community and honor our front line workers, helpers, graduates  through ART!
Join us in a month-long Evanston community art event where anyone and everyone can make art at home and display it for all to see. Beyond front doors and yard signs, all Evanston residents are invited to ÔÇ£art-bombÔÇØ Evanston.
Click here to learn more about #EvanstonArtConnects.
Click here for a comprehensive map of artwork on display throughout Evanston!
The Evanston Art Center will be displaying artwork curated by Rose Cannon of Cannon Fine Art Gallery and Fran Joy: 
Michel Delgado
Myah Grinnel
Tadaaki Hatta
Fran Joy
William Kwamena-Poh
Debra Salter
Artwork by Nina Weiss will also be on display. 
You can also connect with the EAC online with our At-Home Art Resources, Virtual Galleries and Online Classes. Stay Inspired!
ABOUT THE ARTISTS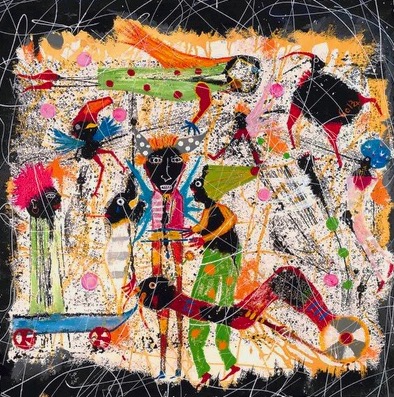 Michel Delgado was born on the West Coast of Africa, in Dakar, Senegal. Pursuing a path to the arts from a young age, this works has become an outlet for inquiry, honesty, and memory. His work has become more widely known in the past decade, having been acquired by private collectors throughout the nation, and is part of the public collections of the Plains Art Museum in Fargo, North Dakota, and the American Visionary Art Museum in Baltimore, Maryland. His latest project, the Gum Spotting Experience, was recently on exhibit in Philadelphia as part of Philadelphia International AirportÔÇÖs Exhibition Program. DelgadoÔÇÖs work was featured in the Fox television network series Empire, alongside works by Kehinde Wiley.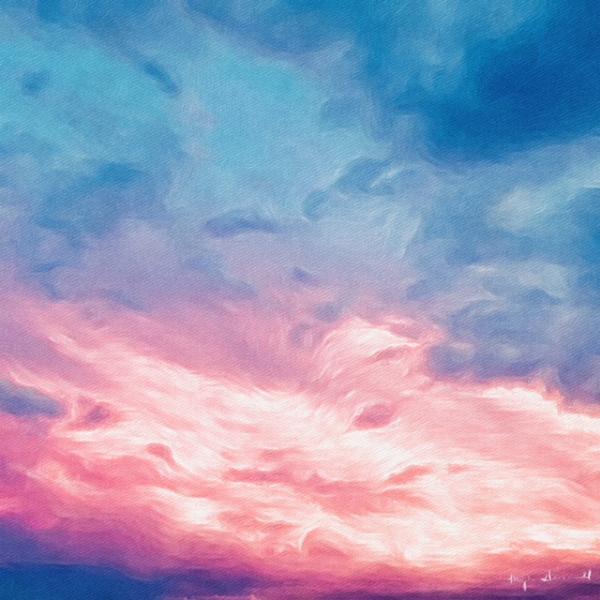 Myah Grinnel was born to two talented artists in Evanston, IL. Drawing and painting were a constant in her home. She graduated from Northwestern University with a major in Radio/TV/Film. It became clear she was drawn to several art media. When Myah became a wife and mother, photography became more conducive to exploring an idea or a feeling. Her current work combines both painting and photography through digital painting. Her concentration has become expressive landscapes and abstractions inspired by her travels.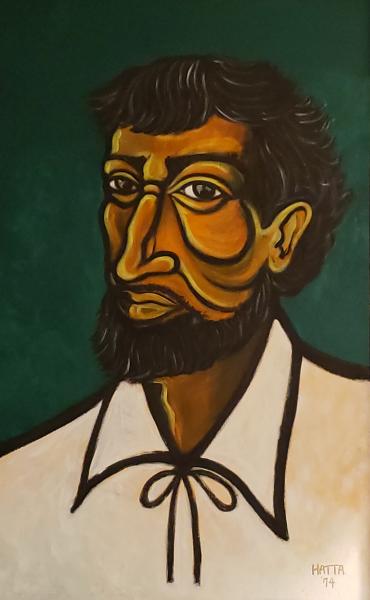 Tadaaki Hatta is a visual artist who creates artwork from his personal experiences that touches the souls of viewers. Born in Peking (Beijing), China (occupied by Japan) and raised in Tokyo, Japan, Tadaaki Hatta is not only an accomplished artist, but also a world class Olympic coach and award-winning athlete. In 1961, he traveled from Tokyo to Stillwater, Oklahoma to wrestle and study at Oklahoma State University. After finishing his Bachelor of Arts, Tadaaki earned a Masters in Fine Arts from Northwestern University.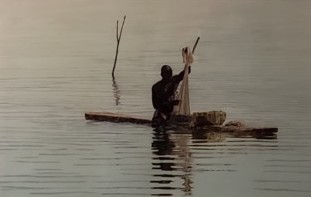 Born in Ghana, William Kwamena-Poh came to the United States when his father came to teach history at Talladega College in Alabama as a Fulbright Scholar. William was introduced to the work of James Huff, an artist teaching at the college. According to William, ÔÇ£Huff painted huge and intricately detailed portraits of African American women that blew me away! They were so detailed, yet simplistic. I was lit on fire! I had that young braggadociousness and thought, I can do that!ÔÇØ William has since learned how much dedication, determination and skill it takes to capture the essence of his subjects. He dedicates himself to the continual process of artistic challenge and personal growth so that his viewers can experience the beautify and diversity of our lives.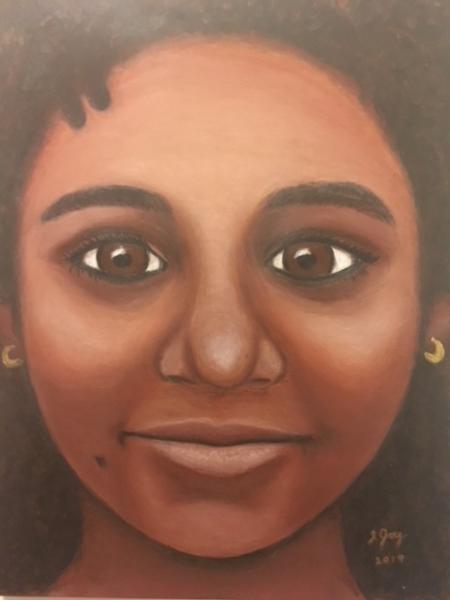 Fran Joy is an artist, designer and life coach currently living in Evanston, IL. Most of her adult life she has been in the greater Chicago area, Los Angelas and New Orleans. She has been the featured cover of the Evanston Magazine and appeared in the Evanston Review and the Chicago Tribune. The purpose behind FranÔÇÖs work is to show the power, strength and triumph of the human spirit. As she witnesses the loss of life and humanity throughout the world, she is drawn to those who believe that the power of their faith and the strength of their spirit and character are what truly matters and will make a difference in life.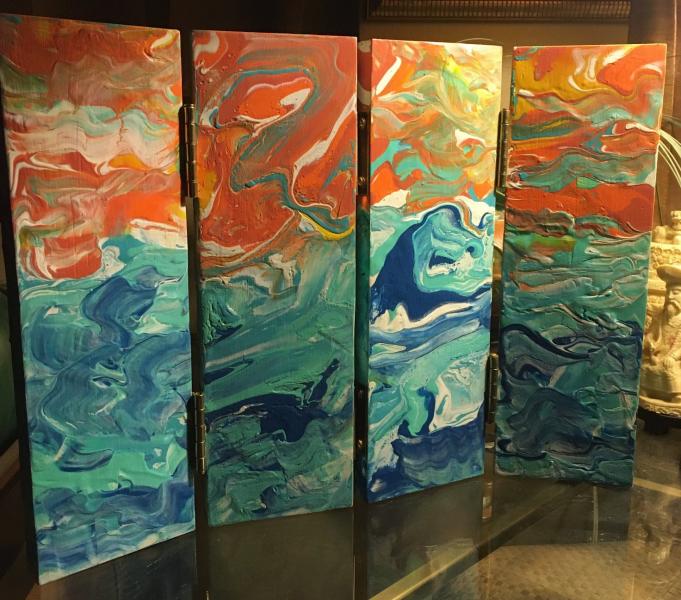 Debra Salter creates one of a kind, handpainted original designs that are also functional art pieces. This concept came to her last year, after looking for a pair of treasured earrings. Those that become forgotten, out of sight and mind, and then entangled and broken in jewelry boxes. Her philosophy when creating her jewelry displays is the same as her home decorating. ÔÇ£Indulge in the visions that one should not limit themselves to. My objective is to express a creative spirit, to bring to your home, to life, what often appears to be... Just An Illusion.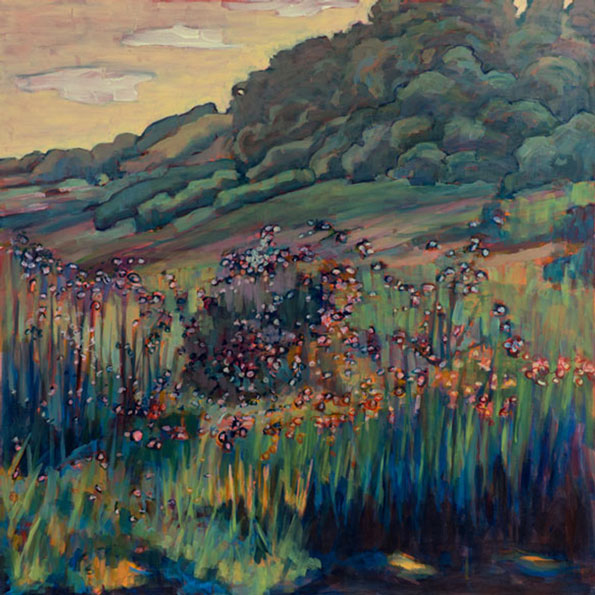 Nina Weiss has been painting and drawing the landscape for over thirty years. Her early studies included classes as a teenager at the Art Students League, NY & the Rhode Island School of Design. Nina entered college at the Tyler School of Art at age sixteen and graduated with her BFA at twenty. Originally from New York; NinaÔÇÖs passion for landscape began with her move to the Midwest in 1980 for graduate school.
NinaÔÇÖs work is represented in private and corporate collections including United Airlines, Aetna Insurance, McDonalds, Eli Lilly, and Avon. She has a lengthy resume of solo and group exhibitions including New York Art Expo; Kohenline Art Museum, and the Union League Club. Her work can be seen in two Hollywood films; ÔÇ£Chicago FireÔÇØ TV series; & is licensed in prints and posters.  Publications include the books ÔÇ£100 Artists of the MidwestÔÇØ; ÔÇ£Artists Homes & StudiosÔÇØ & ÔÇ£The Chicago Art SceneÔÇØ. Nina travels extensively to research and document inspirational landscapes at home and abroad. She completes her large-scale landscape paintings in her Evanston studio. Her large layered compositions evoke the lush feel of landscape in deep, saturated color. Nina's surfaces are alive with gesture and emotion. Her lengthy teaching experience includes The School of the Art Institute of Chicago & Columbia College Chicago. Nina travels with students to Europe every summer for her European Landscape Workshops. She lives in Evanston with her kid and cats.
ABOUT THE CURATORS
CANNON FINE ART GALLERY, LLC (developing virtual and online only at this time) is a new Evanston entrepreneurial business owned and operated by Rose M. Cannon, June 2019 graduate of the Sunshine Enterprises Community Business Academy, Evanston, Illinois cohort. Rose studied both visual and performance art from grade school in Evanston through 4th year of University, completing requirements for a B.A. in Psychology in 1973 from the University of Illinois at Chicago with minors in performance and visual arts. She spent most of her professional career in government work from which she retired in 2016, having achieved one of the highest levels of independent decision-making in her agency as an Appeals Referee (administrative law judge).
Despite having an active and busy professional career and raising a family in Evanston, Rose longed for the quiet, introspective, and pleasing times of creating her own art and attending gallery shows. She had kept personal contacts in both visual and performance art fields, with the intention of returning. So after retirement, and as an empty nester, she began taking art courses in Evanston under the training of Jack Lerman to refresh her skills. She discovered along the way that creating art and buying other artistsÔÇÖ work was pleasing to her. She also discovered that Jack Lerman, teaching her class, was her past Haven Junior High School art teacher. Additionally, she has studied very recently with Sarah Kaiser of Studio 215 and will continue once businesses may again open. She is an active member of the Evanston art community and holds membership in the Evanston Made art initiative.
Since opening her Art Gallery in June 2019, Rose has purchased her art stock directly from an eclectic group of professional and amateur artists, many residing in the Evanston and Chicagoland areas. RoseÔÇÖs gallery is currently representing to the Northshore the artwork of international artists: Michel Delgado, William Kwamena-Poh, and David Niari. She also owns artwork for sale from many other local artists, and her artwork is available to be shown on request online. Rose has curated and exhibited her galleryÔÇÖs artwork in multiple shows in 2019 at the 1100 Gallery of Evanston, and at the Evanston Art Center.
FRAN JOY, recipient of the Evanston MayorÔÇÖs Individual Artist of the Year Award, is known for her works depicting women issues and topics of social justice. Her subjects are wide ranging, including intimate portraiture, ethereal figures, historical portrayals, ethnic masks, scenes of violent injustice, and cosmic vistas.
Fran is a visual artist, curator, designer, and life coach who grew up in a small town in Southern Illinois. but who subsequently has called New Orleans, Chicago, Los Angeles and Evanston home, and who makes frequent visits to New York.
FranÔÇÖs first encounter with finger-paint in kindergarten ignited her longing for a life of immersion within the arts. She studied her passion at ChicagoÔÇÖs Columbia College, but then twenty years of life in corporate America interrupted her dreams. FranÔÇÖs entre back into the arts was curating a show for Black History Month in a small Evanston gallery. She went on to produce shows for office buildings and sports complexes. 
Fran has a depth of experience in curating. She created and curated the ÔÇ£Justice for PeaceÔÇØ exhibit for Black History Month at the Noyes Cultural Art Center, which included local and Chicago artists as well as ETHS art students. She produced and curated shows for the Executive Director of the Illinois Arts Alliance, her stepson, Ra Joy. She helped curate one of EvanstonÔÇÖs World Lakefront festivals and the Illinois State Art Convention for the Arts held at EvanstonÔÇÖs Orrington Hotel. She curated an extensive show for Art Encounter at the three-story Joy home in Bronzeville. She collaborated with an Asian art exhibit in Chicago and has curated a series of painters, photographers, poets, performers, and African sculptors.
A full two-term member of the Evanston Arts Council and its Art & Business and Public Art committees, Fran helped select major artworks that are installed throughout Evanston and was closely involved in awarding City grants to Evanston artists and arts organizations for six years. She helped to coordinate and organize the CouncilÔÇÖs Art Under Glass program for Downtown Evanston which exhibited art from local artists in vacant local storefront windows; it included guided tours and a reception. As a member of the CityÔÇÖs selection committee, Fran recently helped to choose the large, outdoor sculpture, ÔÇ£Blessings,ÔÇØ that will be installed at the new Robert Crown Center. 
Fran curated and produced ÔÇ£Women Speak,ÔÇØ an evening event at the Lorraine Morton Civic Center, highlighting women and the power of the female spirit. The packed event included spoken word, vocals, artworks, and inspirational women speakers. It culminated in the unveiling of a new Fran Joy portrait of the historic figure, Emmett Till.
Fran serves on the Evanston Art CenterÔÇÖs Exhibition Committee and is curating a future exhibit and City art project for the Covid-19 times called ÔÇ£Evanston Arts Connect.ÔÇØ 
Fran and Rose Cannon have recently formed the curatorial team ÔÇ£Soulworks,ÔÇØ which has produced exhibits with artists of color for EvantonÔÇÖs 1100 Florence Gallery. Their upcoming exhibit for the Evanston Art Center in June of 2020 (which  may be presented in virtual format) will showcase twelve artists of color.   
Fran is a proud Black woman raised in the 60ÔÇÖs ÔÇô and as well as an artist, sheÔÇÖs a mom, a widow, a friend, and ÔÇ£NanaÔÇØ to three beautiful grandkids.