Evanston Made Pop-Up Shop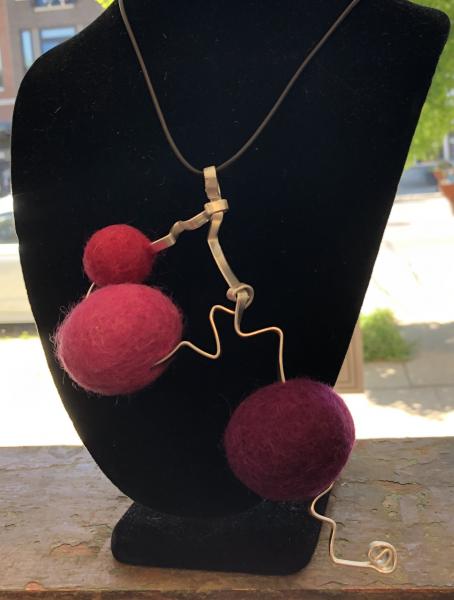 Carolyn Irving Hinske is one of over 100 artists whose work is for sale at the Evanston Made Pop-Up Shop. Hinske, a knitting and fiber fanatic, often incorporates her passion into not only scarves and shawls, but jewelry as well. The Pop-Up Shop features several unique pieces of Hinske's jewelry. Eccentric necklace shapes pair with geometric knitting to create one-of-a-kind pieces that make a bold statement.
Hinske says, "I have also been knitting copper and sterling silver wire to create jewelry. Combining my love of knitting and my love of jewelry has been very satisfying and extremely well received by my patrons."
Evanston Made is open until June 30! Stop by the Pop-Up Gallery at Evanston Art Center to shop for other interesting pieces! 
____
Join us at the Evanston Made Pop-Up Shop, produced by AnoMalY Productions to celebrate the wonderful art of Evanston artists. The Pop-Up Shop will display ceramics, clothing, glassware, jewelry, letterpress/print, metalwork, mosaic, sculpture, soap/oil, textile/fiber, and woodwork/furniture made by more than 50 Evanston artists. One of the Evanston artists that we would like to highlight is Oxana Tsytsarina. Oxana is a jeweler who makes beautiful pieces of jewelry. We are showcasing three wonderful pendants that she created that are being sold at the Evanston Made Pop-Up Shop. One of these pendants is a beautiful image of a dog and butterfly carved into a white stone like material wrapped in wire. Another one of Oxana's pendants that is for sale is a stunning circular pendant with a flower engraved in it. With a wonderful yellow swirl that covers the center of the flower, this piece is an accessory that would look great on anyone. One more pendant of Oxana's that is being sold is another amazing piece of art. This pendant has an array of red, orange and green circles placed in contrast to a black background with a stunning red frame that brings it all together. Join us at the Evanston Made Pop-Up Shop in the lobby of the Evanston Art Center to see and buy Oxana Tsytsarina's pendants, as well as plenty of other Evanston artists works.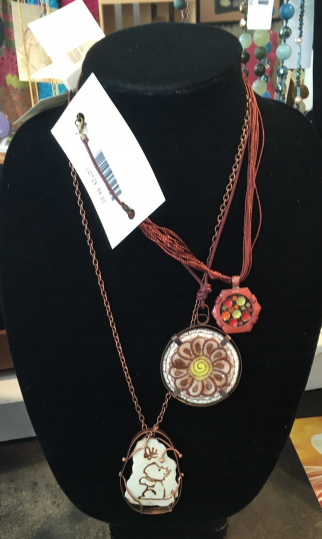 Evanston Made Kids!
Face Painting Station
When walking around our Evanston Made Kids! event, you could see hundreds of happy tigers, kitty cats, unicorns, and more running around from art project to art project. This was thanks to the amazing face painting artist that we had, Denise from Dazzle. I got to assist her work throughout the day, and it was incredible to see how fast (each face taking only 90 seconds) and detailed her work was. Kids would wait eagerly to get their faces painted like their favorite animals, characters, and more. From watching the little girl who got her face painted like a butterfly flap her arms in excitement, to the brothers with matching Batman face paint running around solving crime, the makeup brightened everyone's day and helped each kid stretch their imagination. The joy Denise sparked was inspiring, and showed me that face painting is more than just art, it's a confidence and creativity booster for each kid who experienced it.
Comics Station
BOOM! POW! BAM! This past Sunday the Evanston Art Center had yet another successful Evanston Made Kids! The fun-filled day included various stations of making and creating different artistic projects. At the Hilarious Comic station kids had the opportunity to use premade comic templates or create their own, however, neither comic book halted their young innovative minds to go beyond the pages. Sparks of imagination were flying, some stories were told in large, lengthy detail, some only had a word to a page, and others let their pictures speak for themselves. The room was filled with creativity and miraculous storytelling. Each child cultivated their own unique story, from superheroes that saved moms in trouble to a little girl who could build houses in a matter of seconds. The kids taught us a valuable lessons that day, to not let the boundaries tame you, to be uniquely who you are, and never settle for the ordinary.