The Fifth Annual Side/Lot Evanston Experimental Video Showcase
The 2023 Evanston Experimental Film Festival Program
Artist Biographies and Video Descriptions
For the 5th annual Evanston Experimental Video Showcase, we have selected 15 unique short experimental works by artists from around the region. We are partnering this year with Bridge, a local artistic collective and not-for-profit publishing and programming organization. Bridge is launching Bridge Video, a platform for experimental video work, with their inaugural Bridge Film & Video Fest premiering on October 28th at Site/Less Chicago. Bridge contributed three films by international artists from their platform  to the showcase.
The artists are listed here in alphabetical order, which is different from the screening sequence. 
The screening took place on Friday, September 22, 2023. The Showcase is available to watch during the Evanston Art Center's open hours from Monday, September 24 - November 15, 2023 on a monitor in the galleries.
Curators
Mat Rappaport
Naeema Jamilah Torres
Anne Hayden Stevens
---
Charles Cadkin
Pump
On the Northwest side of Chicago, large swaths of people have been gathering for decades to fill their containers with water from a magical water pump.
Charles Cadkin is a visual artist concerned with documenting and preserving neglected personal and local histories through ecology, topography, landscape and body. His work has screened internationally, including at the Museum of Modern Art, Other Cinema, Light Field, Moviate Underground Film Festival, No Name Cinema, the Gene Siskel Film Center and ULTRAcinema. He has received funding and support from the National Film Preservation Foundation, Interbay Cinema Society and the Chicago Department of Cultural Affairs and Special Events, among other institutions. He holds a BS in Cinema and Photography from Ithaca College and resides in Chicago, IL.
Chris Churchill
My Flag and Anthem
Nothing to do but entertain yourself and your African Gray Parrot. This is about reveling in process. Using datamoshing in real time and, by doing so, treating my cel phone as a live performance instrument, I believe I captured exactly how I feel when I don't know what to feel. It starts with me and my parrot George Takei Churchill.
Chris Churchill is a comedian, musician, writer, teacher, and maker of documentary, mockumentary, comedy, and experimental films. He holds two master's degrees (an MA from NEIU and an MFA from Northwestern University). His work either advocates for better understanding of mental illness or dances on the fringes of sanity itself.  Where the glitches in the edit match the glitches in his mind, Chris hopes you get a glimpse into how it feels to be someone who doesn't think like you. 
Johannes DeYoung
Headshots
BRIDGE SELECTION
You never get a second chance to make a first impression, so make it a good one. Effective headshots leave lasting impressions.
Johannes DeYoung is an internationally recognized artist and filmmaker who works at the intersection of computational and material processes. His moving-image works have been exhibited internationally at venues such as: Museo de Arte Contemporáneo de Alicante, Alicante, Spain; Festival ECRÃ, Rio de Janeiro, Brazil; National Taiwan Museum of Fine Arts, Taichung, Taiwan; B3 Biennale of the Moving Image, Frankfurt en Main, Germany; Hesse Flatow (Crush Curatorial), Jeff Bailey Gallery, Robert Miller Gallery, Interstate Projects, Eyebeam, and MoMA PS1 Print Studio, New York, NY; as well as numerous festival screenings in countries such as Australia, Greece, Ireland, New Zealand, Turkey, and Vietnam. His work has been featured in The New York Times, The New York Post, The Huffington Post, and Dossier Journal.

Soyeon Jung
White Noise
BRIDGE SELECTION
 
"White Noise" is an abstraction of the social and political concerns currently reverberating throughout the United States. A video that travels through an anonymous American landscape is juxtaposed with the increasingly chaotic sounds of newscasts and punditry. The banal time and space of everyday life take on an ominous atmosphere as the radio gives voice to a stream of issues pulling at our social fabric, while the image of the landscape fragments and falls out of sync with itself, transforming what was once familiar into a threatening experience.

Originally from South Korea, Soyeon Jung is a cross-disciplinary media artist currently practicing in Binghamton, New York. Her work encompasses experimental video, video installations, performance, and digital media art and design while examining the contrast of social structures, gender roles, and functions of memory from the perspective of someone situated between two cultures. Her projects have been exhibited in exhibitions, screenings, and festivals including SIMULTAN Media Festival (Timisoara, Romania); Cologne Off Video-art Festival (Cologne, Germany); KLEX Experimental Film/Video Festival (Kuala Lumpur, Malaysia); the 7 Days Video Series at Western Michigan University (Kalamazoo, MI); Santa Monica Art Studios (Santa Monica, CA); among others. She received her MFA in Media Art at the State University of New York at Buffalo in 2006.
CK (Kaia) Olsen
Bug
http://www.ckolsen.com/
An embodied sensorial experience manifested through reflection, movement, and sound.
Kaia is a Chicago-based interdisciplinary artist who engages moving image through playful entanglements of material, movement, time, and form. Kaia's work has exhibited at Artemisia Gallery, ArtSquad Gallery (Philly), Chicago International Film Fest, Clinton Presidential Library, Gallery 400, Links Hall, Little Rock Film Fest, Miami Short Film Fest, Music Box Theatre, Ruth Page Center, and the Sidewalk Film Fest, as well as on PBS Television... and in the VeggieTales animated series. Kaia has taught art, new media, animation, and film at Columbia College Chicago, University of Illinois Chicago, and most recently at DePaul University.
Hailing Liu
The first United Ice Cream closes today
The first United Ice Cream closes today is a piece of fabricated news combining found footage and composited images about a fictional ice cream world. According to the news, a formal ice cream organization, United Ice Cream, addressed the first assembly to declare its mission of maintaining peace in this world. By using news format as a narrative framework, this experimental video work explores the distance between real life and media representations, and our insecurity and lost of control during pandemic crisis and social-political unrest.
Hailing Liu (Chinese: 刘海玲; b.1997) is a multimedia artist born in China. They received their MFA in Film, Video, New Media, Animation at the School of the Art Institute of Chicago. Their work employs diverse media in their art practice:video (2D & 3D animation), computer-based media (Augmented Reality, Social media), writing, printing and installation. Focusing on family history, Internet, digital diaspora and grass-root culture, Liu captures social, cultural and political changes in contemporary China and their relationship to the global. Their work specifically examines digital image consumption in people's daily life, highlighting the social impact of media representations from digital images. The expression of their work is always humorous, dark, absurd and ambiguous, with the structures that are in between reality and imagination.
"Consumed by the sea of media, we are all influenced by the things we see from the palm of our hands. The rise in advertising has had a significant impact on our society and culture. Appearing in nearly every aspect of our lives, from television and print media to social media and online platforms, advertising has become unavoidable. The targeting and manipulation of advertising has raised concerns about privacy and data security, as well as political influence and propaganda.
William Ojeda
We are at war for attention. Social media platforms can shape the way we perceive ourselves and others, as well as impact our self-esteem and overall sense of self worth. This experimental film aims to spark a broader conversation about the cultural forces that shape our understanding of who we are, and the ways in which we construct our own narratives of selfhood."
WillIiam is a Mexican-American artist from Chicago,IL. William's work embodies concepts of ones self and the things around us that visualize conflict. Fueled by contemporary culture, his interdisciplinary practice is made up of paintings, sculptures, and experimental films. There are no borders between mediums, only human perceived borders.
Eleanor Pavich
Appropriation.Pavich
Alan Perry
Tracing the Materiality of a Cellular Connection
This short experimental film visually traces how data and information travels through the material world via unseen electromagnetic waves. Cellular towers were scanned and animated using photogrammetry, a technique that uses photographs to create 3D models. The electromagnetic waves are visualized using animation techniques. Abstract and surreal visuals are also displayed simultaneously, leading to a visual experience in resonance with contemporary modes of engagement with video content.
Alan Perry is an interdisciplinary artist who works with video, installation, artist's books, computer animation, 3D printing, creative coding, and photography. His work questions the relationship between past and present, with a particular focus on communication technology. Questions around how technology takes on a magical or arcane aura permeates his work. He has participated in solo and group exhibitions in Fort Collins, Denver, Portland, Seattle, and Chicago in the United States, and internationally in Gimpo, South Korea. He was granted a Bachelor of Fine Arts degree in Photo Image Making from Colorado State University in 2013, and a Master of Fine Arts degree in Art & Technology Studies from the School of the Art Institute of Chicago in 2019.
Jude Silvertree
HELLO WORLD
instagram.com/balamusia
"HELLO WORLD" Is a video created using Commodore BASIC and celestial body simulations.
Jude Silvertree is a Chicago-based new media artist. Silvertree combines both contemporary and retro technology to create video artworks that capture the gaze and focus of their viewers.
Walt Smits
in which the lilac ghosts ask me of what i'm doing in march
lilacs serve as a symbol for a fleeting romance of intense allure but also as a reminder to take in the moments of beauty. I seek connections thru creating fake dreams... am I a coward?
I am a queer multimedia artist focusing on experimental video. My lens is youthful and curious, broken down into absurd collages of spontaneous language and fragmented imagery. My work critiques filmmaking structures and examines the intangibility of memory, childhood, and sexuality. Transcending these constructs via playful curiosity allows me to provide an earnest and heartfelt analysis of the ephemeral.
Walt Smits
in which they were not yet hermit crabs
WalterSmits.com
BRIDGE SELECTION
where do memories rest... certainly not a beach? or? what role do they play in loneliness?
I am a queer filmmaker focusing on experimental videos. My work falls under two different methodologies: Diary Film and Playground Absurdism. Playground Absurdism is a term I created to describe my feature film work. It is an approach to filmmaking that is rooted in absurdist ideology and harnessed using the ethos of a child. Masked with silly plots and characters, time serves as a vessel for exploration of the imperfections, people and spaces I hold dear. It involves play and discovery as a way to carve out the ideas and visuals in my projects.
Heather Snyder-Quinn
I was just trying to help..
"I was just trying to help..." is an experimental film exploring human interaction with virtual objects and assistants. Using a screen record, the artist places herself and her family in a fictional, virtual universe by superimposing themselves into Google's Street View and visiting the 35 homes where she once lived. Navigating chatbots, robocallers, and Alexa's bedtime stories, the film captures the speed and absurdity of modern life and a mother's virtual navigation of a technological world layered with ethical implications. With the overlay of the physical and the virtual and the resulting mix of fact and fiction, the film reflects a mirror of our time, and questions technology's influence on the fabric of our lives. (this is a partial clip of the entire film)
Heather Snyder Quinn (she/her) is an Assistant Professor of Design, the 2021 to 2022 Wicklander Fellow in Ethics, a 2022 OpEd Public Voice Fellow, and founder of The Parallel Futures Design Lab at DePaul University's Jarvis College of Computing and Digital Media. As an interdisciplinary artist, designer, author, and filmmaker, Snyder Quinn is usually where she "isn't supposed to be." You will find her playing in unexpected places, physical or virtual, and collaborating with people from an array of backgrounds. She uses design fiction to empower communities to imagine possible futures and understand technology's impact on human freedoms, including artificial intelligence and the metaverse. The World Economic Forum, MIT Press, Yale Law School, The Washington Post, Hyperallergic, and NASA have recognized her work. Currently, she is editing Technologies of Deception, a publication bringing together art, design, technology, ethics, futurism, and policymaking. Snyder Quinn received her MFA from Vermont College of Fine Arts and her BFA from the Rhode Island School of Design, where she taught for ten years. Previously she was an Assistant Professor of Design Futures at Sam Fox School of Design and Visual Arts at Washington University in St Louis. She lives in Chicago with her husband, Joe, and their two daughters.
Ramin Takloo-Bighash
Last Thursday
Through a series of minimal, isolated acts. "Last Thursday" depicts the life of the artist in diaspora struggling to find his place in the world as he tries to reconcile his cultural and musical heritage with the artistic norms of his adopted home.
Ramin Takloo-Bighash (b. 1974, Sarbandar, Iran, MFA University of Illinois at Chicago, May 2023) is a Chicago-based multi-disciplinary artist. In his work, Ramin explores immigration, war, trauma, isolation, and imprisonment—experiences that are very personal to him. Ramin is an immigrant, and even though he has lived more than half of his life in the US there is a part of his that still feels like a person in exile.  A basic question that Ramin grapples within in his practice is: what happens to language in the face of trauma? Persian calligraphy, and its, often wordless, incarnations in painting, sculpture, and cartography, forms the core of Ramin's artistic practice. Other than calligraphy, painting, and sculpture, Ramin's practice also includes writing, music, photography, and film. His most recent film is "It happened down the street" which he made based on a visit to southern Iran in the summer of 2022.
John Thomas
NOLS
sites.google.com/site/johndthomaswork/Home
A year or so ago, I began to see groups of construction lights packed together on the sides of roads after projects had been completed. I started coming back at night to film them, trying to capture the phenomenon as Naturally Occurring Light Sculptures.
John D. Thomas is a Chicago-area writer, photographer and filmmaker. His work has appeared frequently in publications including the New York Times, the Chicago Tribune and the Village Voice.
Jamie Lou Thome
Dreamscape
Dreamscape by Jamie Lou Thome is a reflection on love, loss, and memory through the lens of an imagined old woman's dreams, in the moment just before her death. Jamie Lou Thome is an interdisciplinary artist, whose work runs the gamut of collage, assemblage, fiction, artist's books, poetry, installation, and now, with this first one created in late fall of 2022, experimental film.
Qianwen Yu
The Blueness in Zhuang
"The Blueness in Zhuang' was made to celebrate Asian-American Pacific Islander Month. It's a stop motion animation using indigo dyes on cloth about the cultural heritage of the Zhuang people in my hometown of Guangxi. 

The Zhuang are an ethnic minority in China. My hometown Guangxi is the place where most Zhuang live. The Zhuang used indigo dye for clothing and worshiped frogs and prayed to them for rain. In the stop-motion animation, the objects drawn are part of the Zhuang's distinct culture and history. " Qianwen Yu (b. Guilin, China) is an interdisciplinary artist and animator based in Chicago, she works with stop motion, hand drawn animation, and weaving arts, etc. Qianwen graduated with a Master of Fine Arts degree in Film, Video, New media, and Animation at the School of the Art Institute of Chicago in 2020. Her artwork and animation have been shown internationally in the United States, the United Kingdom, South Korea, China, France, Czech Republic, Kosovo, Croatia, and Mexico.
The 5th Annual Side/Lot Evanston Experimental Video Showcase features short, experimental videos by film and video makers who live or work in the Chicagoland region. The showcase aims to present short, experimental work by diverse creators, highlighting their unique visions and approaches to media.
Follow Side/Lot on Instagram (@side.lot) and Facebook for updates and to share the event with your audience.
2023 Curators and Organizers
Anne Hayden Stevens, Artist/Curator
Naeema Jamilah Torres, Curator/Filmmaker
Mezcla Media Collective
Mat Rappaport, Artist/Filmmaker/Curator
---
ARCHIVE

September 23, 2022
8:00pm
Evanston Art Center parking lot
1717 Central Street Evanston, IL 60201
The 4th Annual Side/Lot Evanston Experimental Video Showcase features short, experimental videos by film and video makers who live or work in the Chicagoland region. The showcase aims to present short, experimental work by diverse creators, highlighting their unique visions and approaches to media.
This screening is free and open to the public. The screening will begin after dark outside on a large wall at the Evanston Art Center. We will start with some music and invited pieces just after sunset and screen the juried work beginning at 8:00pm.
Follow Side/Lot on Instagram (@side.lot) and Facebook for updates and to share the event with your audience.
2022 Filmmakers:
Beth Ashby
Julia Pello
Claudia Bucher, Anni Holm & Rose Camastro Pritchett
Chris Churchill
Christopher Donahue
Alana Ferguson
Emeer Hasanpoor
Lan Makes
Maya Nguyen
Caldwell Peterson
Alyssa Sammons
Hamed Shafie
Shiloh Washington
Michael Workman
2022 Curators and Organizers
Anne Hayden Stevens, Artist/Curator 
Annestevens.com
Naeema Jamilah Torres, Curator/Filmmaker 
naeemajamilahtorres.com
Mezcla Media Collective
Mat Rappaport, Artist/Filmmaker/Curator 
https://www.meme01.com
https://rangemobilelab.com
2020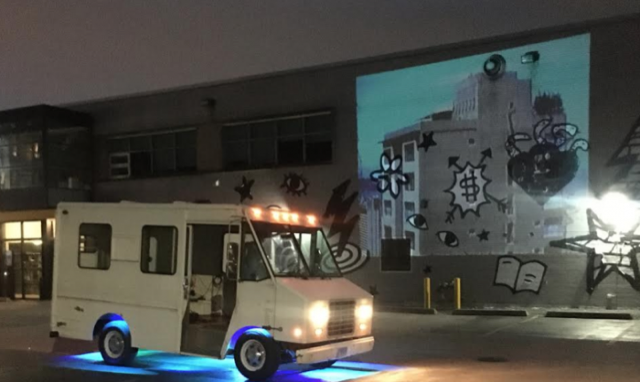 Thursday July 30th @ 8pm (Gates close at 8:20) Program begins promptly at 8:30 ending by 9:30.
>>> HOW IT WORKS
As in years past, we will be projecting the videos onto the side of the Evanston Art Center. This year, due to the coronavirus, we are using the drive-in theater format to keep our community safe and socially distanced. We have remapped the parking lot to maximize the view and number of cars. We ask that you arrive early to allow for parking. Audio will be broadcast via FM radio, so make sure your car radio works. Rain or Shine.
CLICK HERE to view images from the 2020 Outdoor Drive-In.
>>>VIRTUAL SCREENING
Join us for the Virtual Screening and Q&A with the Filmmakers on the EAC YouTube channel on August 13 at 7:30pm! 
CLICK HERE to view images and film stills from the 2019 Outdoor Film Screening.