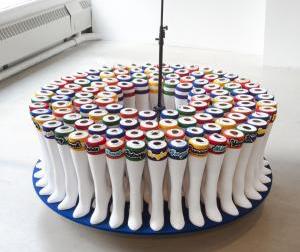 September 26 to November 7, 2010
Exhibiting Artists: Sebastian Aguirre, Tanya Fleisher, Jonathan Gardner, Cheryl Pope, Nozomi Rose, and Cristina Silvestri.
Rembrandt van Rijn, Henri de Toulouse-Lautrec, and Arshile Gorky are not typically the artists who come to mind when you think of Evanston Art Center exhibitions. Yet, the very same gallery walls on which we have just installed "Through the Looking Glass" once held original etchings, prints, and paintings from these great masters.
It is this longstanding commitment, 80 years to be exact, to presenting extraordinary art that helps set us apart from other community art centers.
In honor of our octogenarian anniversary, we thought it appropriate to ask six established artists who had shown their work at the Art Center earlier in their careers to select one of their students for this exhibition opportunity – for it is a very important part of our mission to introduce new generations of artists.
This group of young artists represents an interesting cross-section of recent and soon-to-be graduates of a Masters Degree in Fine Arts. They work in a variety of mediums and many are multi-disciplinary in their practice; just as facile with a sewing machine or paint brush as they are with a video camera or audio recording. While it is hardly necessary, it is tempting to try to discover an underlying thread in a group show – especially one curated by six other artists. For me, there is a palpable meditative quality about the work; a pulling inward. The color studies of Nozomi Rose, the bound figures of Cristina Silvestri, the eerie figurative work of Jonathan Gardner, the solitary play of a button toy uniquely presented by Tanya Fleisher and the otherworldly horizons in Sebastian Aquirre's photo work – they are all highly personal and contemplative statements. Cheryl Pope, on the other hand, has very cleverly asked others to look deep inside themselves and voice their long-held secrets.
Click here for a look at the exhibition brochure
Click here to view more images from "Through the Looking Glass"