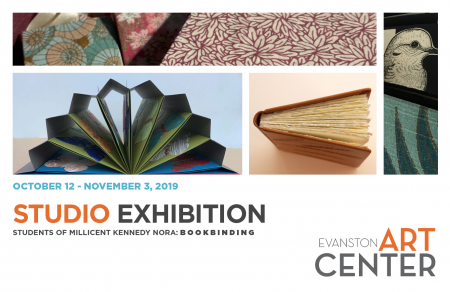 October 12 - November 3, 2019
Students of Millicent Kennedy Nora's Bookbinding classes will display their work in our First Floor Lobby. In these classes, students learn about folding, sewing and gluing to explore different types of stitches and structures to create several of their own sample books. In advanced classes, students utilize skills garnered in the beginning class, and explore more complex structures with in-depth techniques, potentially covering Coptic bindings, long-stitch, advanced Japanese side-stitch or others, as well as developing content for their pieces.
The ongoing Studio Exhibition series highlights the variety of exceptional artwork made in our EAC classrooms by featuring student work in our galleries. Each Studio Exhibition is coordinated by the instructor, who curates contemporary and thought provoking exhibitions of their studentsÔÇÖ artwork.
PARTICIPATING ARTISTS include Barbara Eckel, Valerie Kanter, Kathy Lee, Susan Melczer and Maria Rebelo.
INSTRUCTOR: Millicent Kennedy Nora