ON VIEW: April 16 – May 22, 2022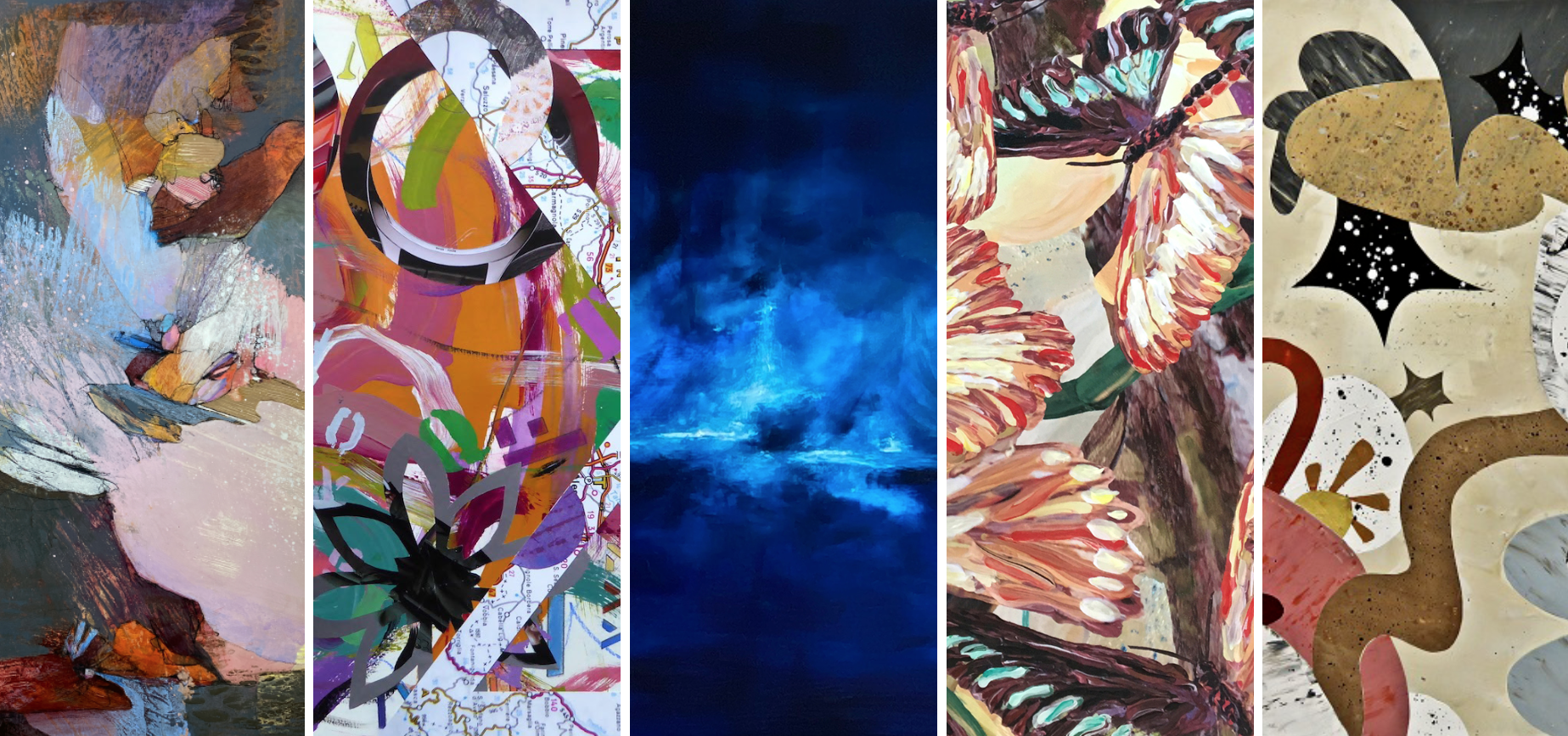 Opening Reception: Friday, April 15 from 5–8pm
The Evanston Art Center is proud to present the work of Shar Coulson, Christelle Desangles, Cecelia Feld, Catherine Forster and Beverly Kedzior.
Expressive Exuberance features the work of Shar Coulson, Christelle Desangles, Cecelia Feld, Catherine Forster and Beverly Kedzior. The assembled works of these five artists are intuitive, bold and expressive with threads of inspiration found in nature, earth and the cosmos. Their inspirations lead to widely varied, yet exuberant and organic expressions. The works engage the viewer in unraveling mystery and intriguing explorations at one level, yet providing a joyful savoring of color, light and complex detail. 
Coulson's paintings are organically abstract with allusions to familiar elements from nature yet leaving mystery for the viewer. Desangles iterates explorations of vivid deep blue color with both explosive and nuanced images of the cosmos, sky, water and light. Feld delights the viewer with crisp lively color, rhythmic and graphic images evocative of jazz themes and variations. Forster examines nature in detail, delving deeply with richly colored images that explore that which could be missed. Kedzior's work is graphic and themed with an intriguing bouncy reference to cartoon-like shapes woven together with references to organic molecules, creating beautiful compositions of color and value. 
ABOUT THE ARTISTS
Shar Coulson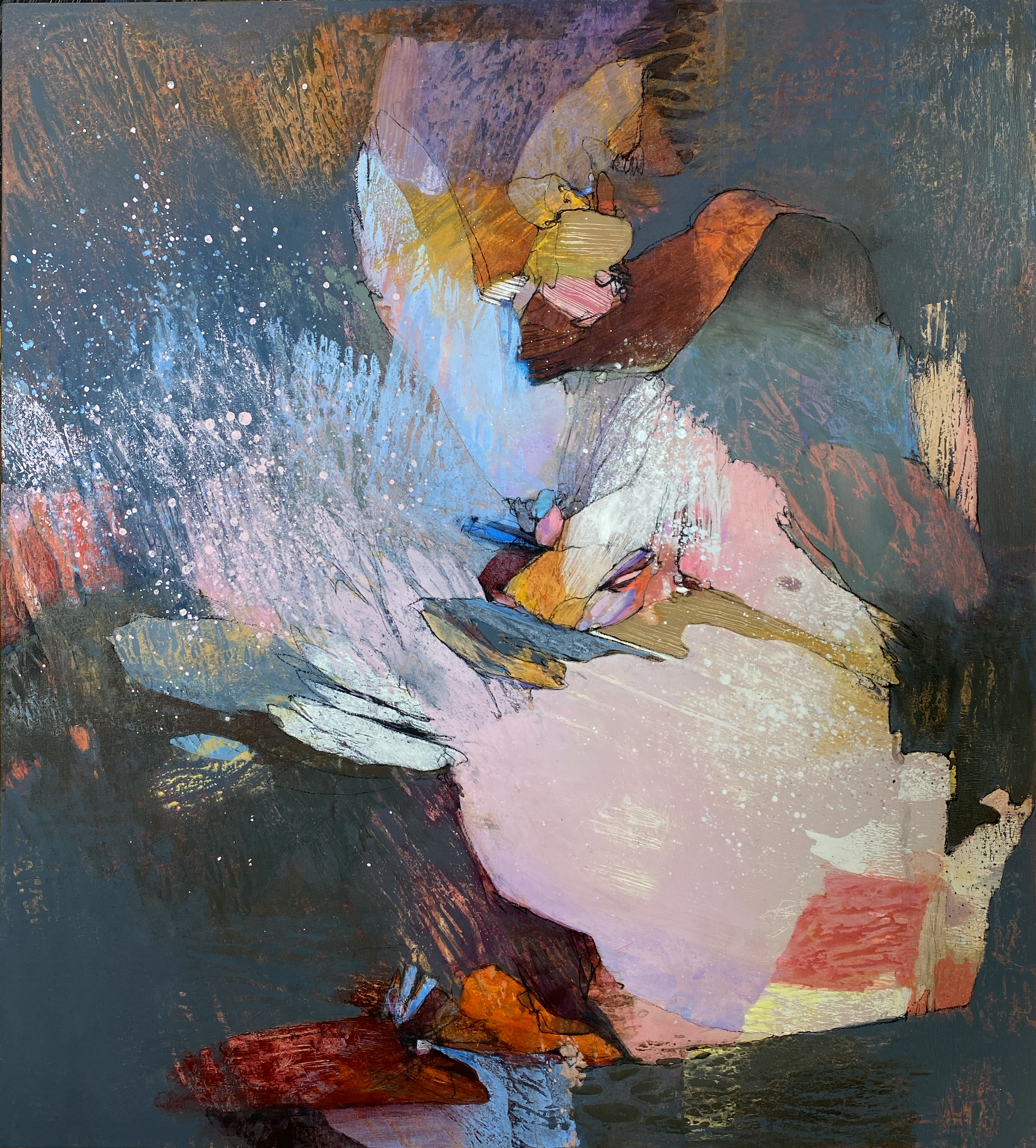 Embracing the essence of Organic Abstraction, Shar Coulson's work reflects her love of nature. Working intuitively, Shar explores the idea of perception vs. reality within the allusive figuration, gestural line work and organic forms found in her paintings. Nature is by far her greatest inspiration because of its randomness and complex beauty. Her heightened ability to see recognizable objects in otherwise unrelated patterns guides her process... animals, plant-like forms or figures often appear and often are embraced. She was formally trained in classical figurative realism, yet finds her passion runs deepest in the world of abstraction. Her sensibility is also deeply informed by a successful career as a designer and executive creative director. Shar exhibits both nationally and internationally. She lives and works in the Near West Side Market District of Chicago, Illinois, USA.
Artwork shown: Shar Coulson, FaunaFloraFigure181, 2021
Christelle Desangles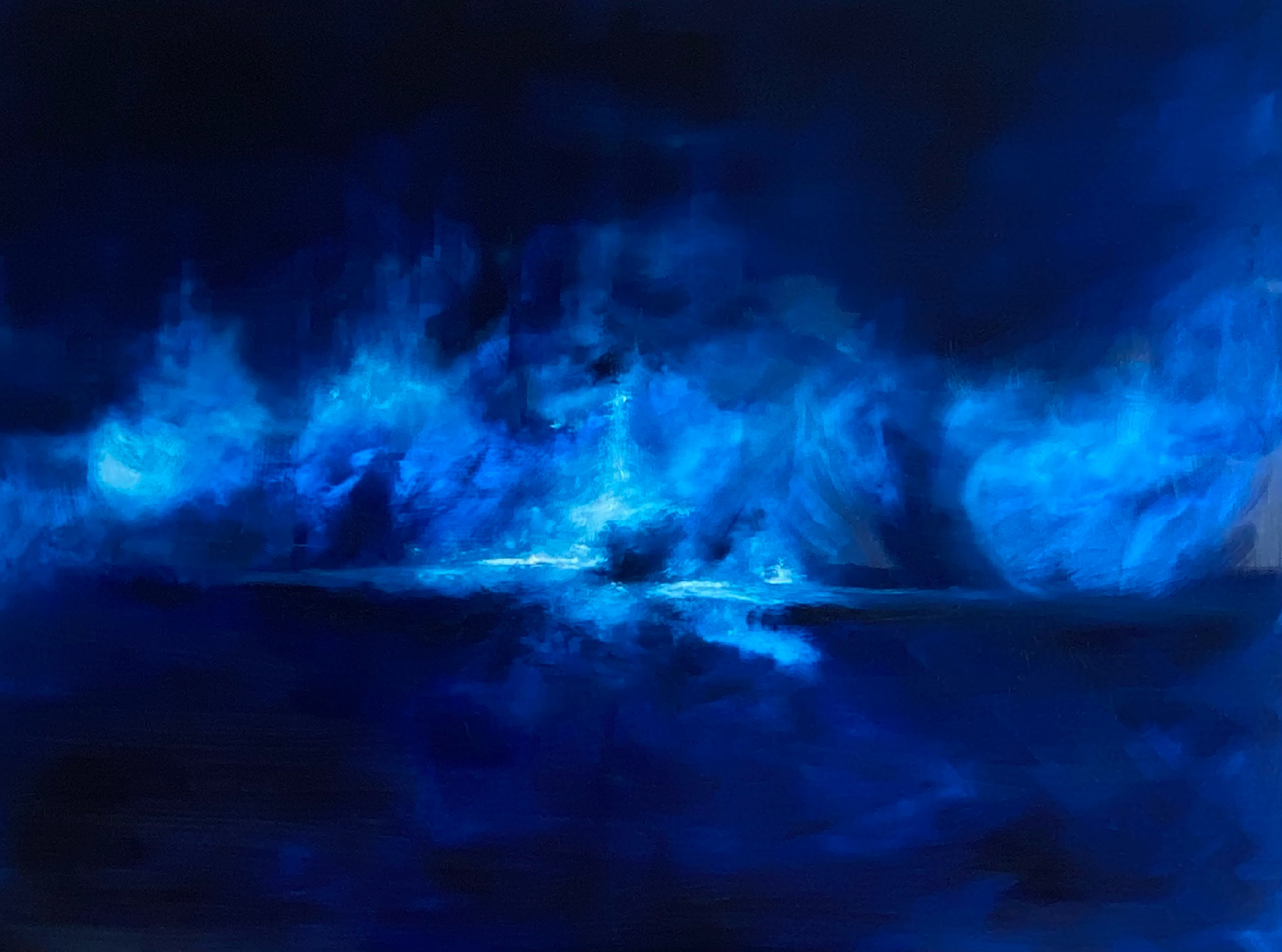 Christelle Desangles (B. 1978) is a self-taught working in Brive la Gaillarde in France.
Blue is more than a color for the artist – Desangles enjoys making and exploring this pigment as she goes through her years of creation. This color is synonymous with strength and infinite space, which allows her to imagine an abstract world. In her eyes, it is a pure color, representing the truth and accompanies it since these first artistic creations. Through her hands, her gaze, she gives it its energy, its depth, its nuances. Blue is a powerful, inspiring and endless shade. Desangles' abstractions are between the abyss, the celestial, a world between depths and lights.
Desangles' strong and powerful works leave a door open to unconsciousness, to travel, to wandering and to contemplation. The spectator lets themself be carried away, to go to their own feelings in each of them. The image of the sensitive artist called for great strength at once. Her works are an invitation to the imagination, to emotion and to freedom, inviting the public's gaze to explore their feelings.
Cecelia Feld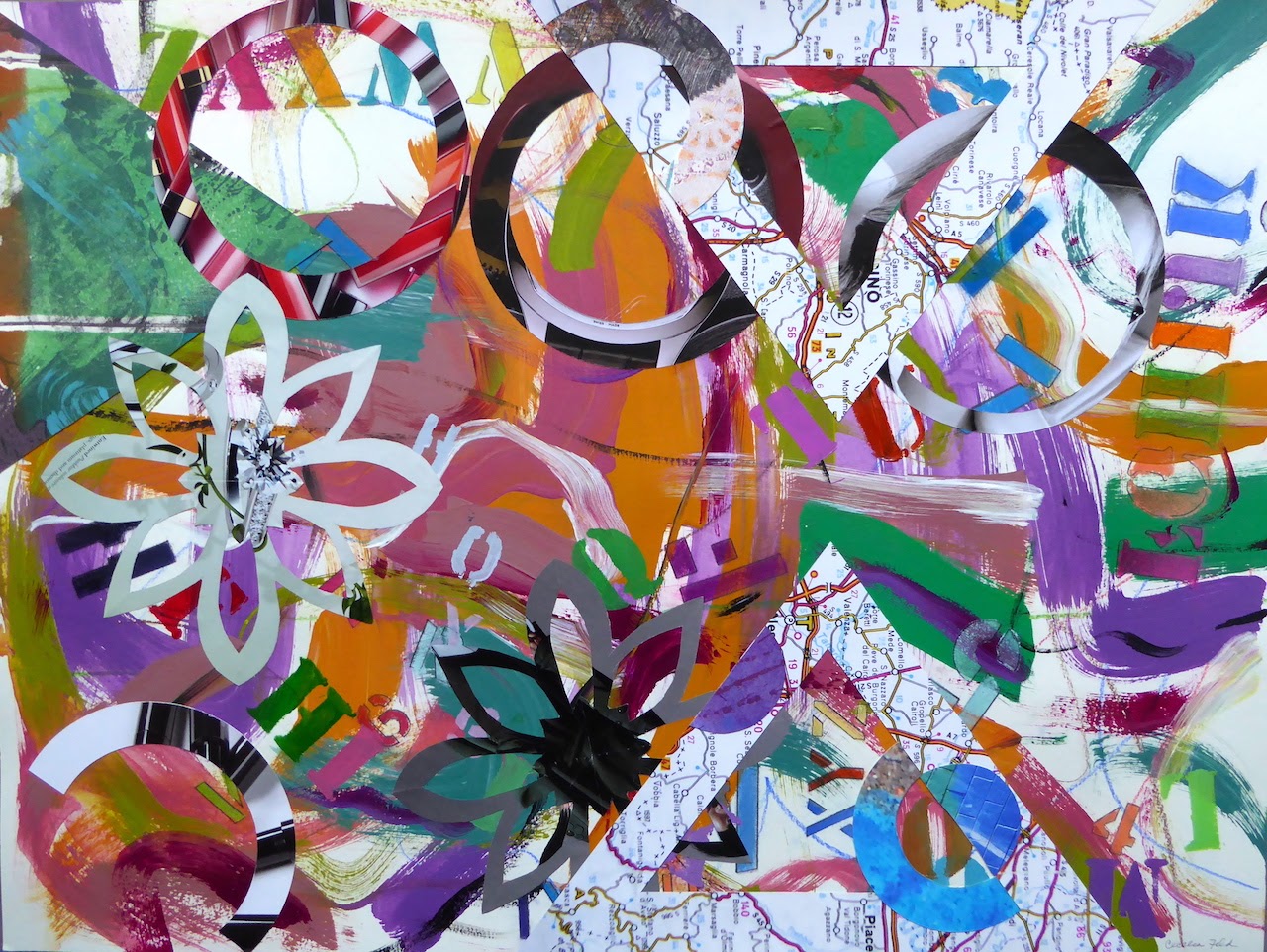 Cecelia Feld grew up in New York City and received her B.A. from Hunter College, N.Y. in 1963. She moved to Dallas, Texas in 1969, receiving a Master of Fine Arts degree in 1976 from the University of North Texas. Cecelia has exhibited her paintings, drawings, prints and photographs in juried and invitational exhibits throughout the United States. She has had numerous solo exhibitions. Her artwork is in many private and corporate collections. Cecelia is the recipient of a MacDowell Visual Artist Fellowship and a Fellowship for a Residency in printmaking at the Vermont Studio Center, Johnson, Vermont.
Feld's work in printmaking, painting and collage is about exploring relationships through abstraction. The relationship of visual components in her work is similar to what happens in jazz. There are themes and variations, repetitive devices, tension and release, harmony and disharmony. There is improvisation. Serendipity is the hallmark of Feld's work, and her love for the unpredictability of working with paint, paper, ink and plate. 
Artwork shown: Cecelia Feld, #1331 Kaleidoscope 4, 2017
Catherine Forster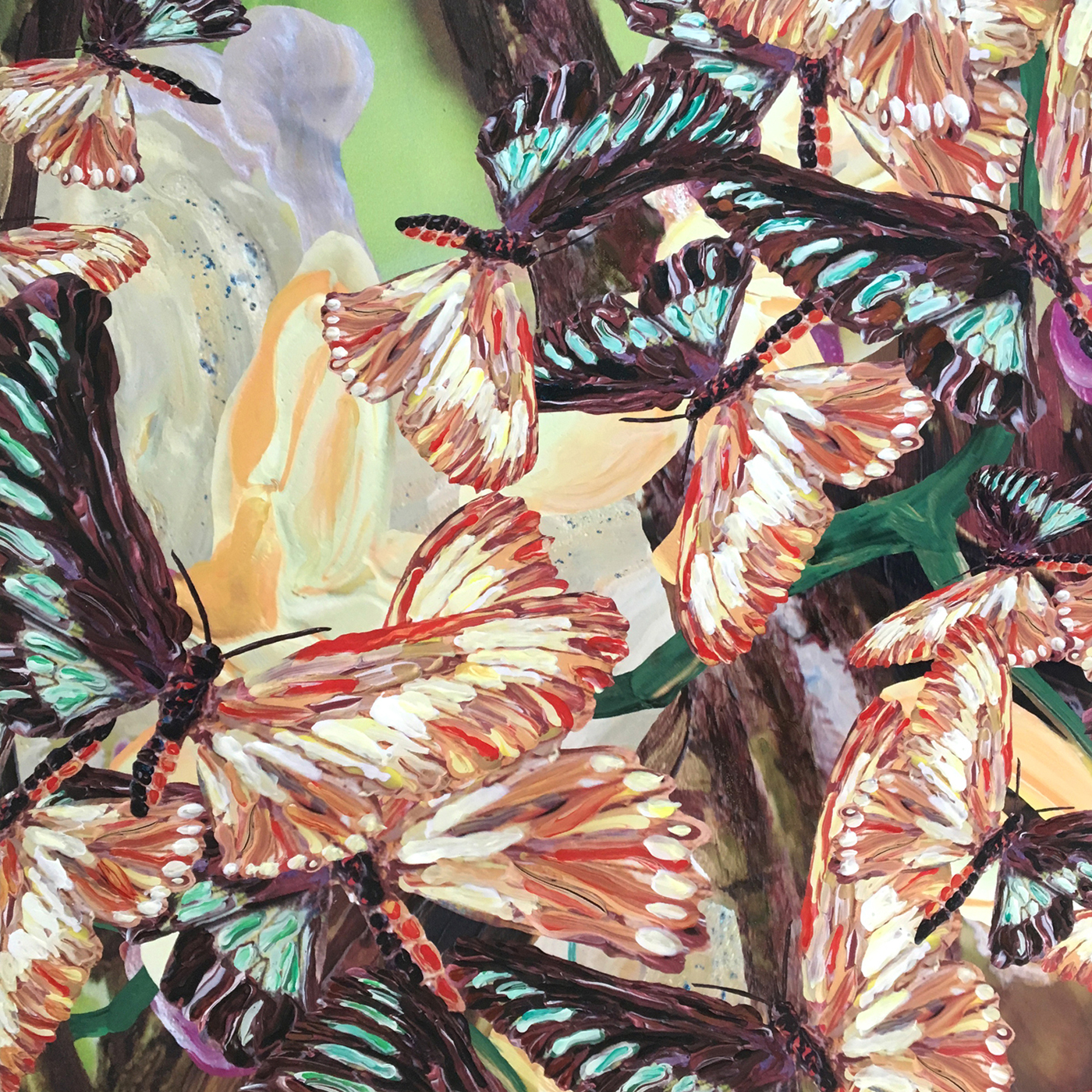 Catherine Forster's trajectory as an artist began with a career in microbiology, an experience presenting a pathway to her current practice. As a microbiologist, Forster's preferred medium was a microscope; today it is a camera and a brush. Forster's fascination with the world beneath the microscope transformed to the arena beyond the lens. She is forever fascinated by the capacity of the "third eye" to capture what is missed or denied. Forster received her MFA from the School of the Art Institute. Her current body of work deploys nature as muse to explore the prevailing state of social discord.  
Artwork shown: Catherine Forster, Of The Woods, 2017
Beverly Kedzior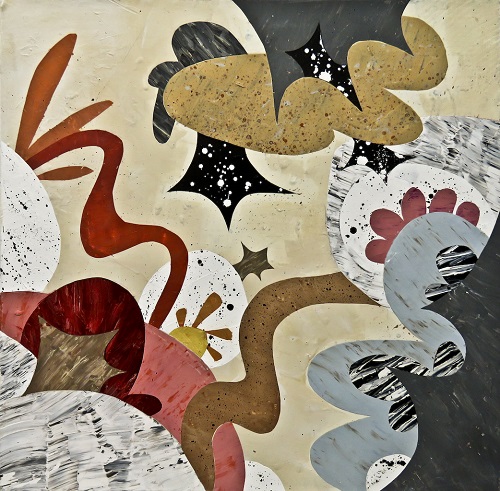 Beverly Kedzior is known for her organic shapes and richly layered abstractions.  As a child she was enamored of animated movies and cartoons. She had books from those movies and traced and drew the images found in them continuously.  

In art school, variations of the organic forms from these venues consistently appeared in her work.  When she discovered a genetic disorder deep in her family history, she searched for answers in medical and DNA books.  She found a correlation between the illustrations there and the bulbous images she was already using.  Mining ideas from animated film, cartoons and medical textbooks, Kedzior creates pop paintings that merge these seemingly disparate elements. 

Kedzior lives and works in Chicago.  She has degrees from Barat College and the Art Institute of Chicago.  Her work has been exhibited throughout the US and is featured in private, corporate and museum collections across the nation.
Artwork shown: Bevelry Kedzior, Pink Cat Ring, 2021
---
GALLERY HOURS & VISITOR INFORMATION FOR COVID-19 GUIDELINES
This exhibition will be held in the First Floor Gallery of the Evanston Art Center (EAC).Masks are optional but strongly recommended for students, visitors, and staff. 
Gallery Hours
Monday–Friday: 9am–6pm
Saturday–Sunday: 9am–4pm
---
HOW TO PURCHASE ARTWORK
Artwork sale proceeds benefit both the artist and the Evanston Art Center. If you are interested in purchasing artwork on display, please contact Audrey Avril, Manager of Exhibitions, at [email protected] or (847) 475-5300 x 107.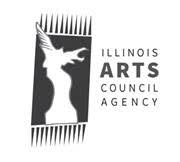 This project is partially funded by the Illinois Arts Council, a state agency, and EAC's general membership.