ON VIEW: August 28 - October 3, 2021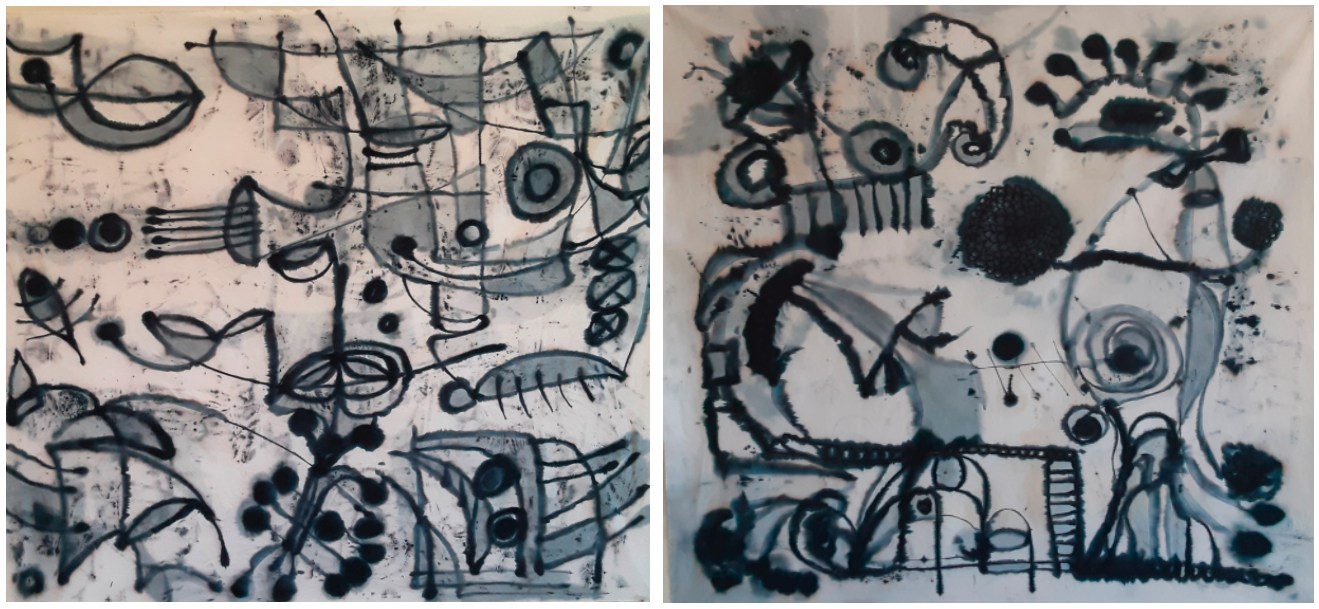 Opening Reception: Sunday, September 12 from 1-4pm
Sandra Leonard is a multi disciplinary artist living and working in Chicago. She was born in Germany and moved to Texas as a child. She received her BFA in Sculpture at University of North Texas State where she studied sculpture, architecture and design. She then attended Northern Illinois University where she received a MFA. Early on the Bauhaus was very influential on her development as an artist. During this time she visited the Staatsgalerie Stuttgart and saw Oskar Schlemmer's costumes displayed. The experience had a profound impact on her and began her fascination with creating costumes. She also became intrigued with the collaborations between Merce Cunningham and Rauschenberg and combining painting and sculpture with movement.
Leonard continues to focus on sculptural costumes,textiles, painting and performance. In the last 30 years she has been involved in numerous performances, improvised theater, alternative fashion shows and installation projects. She has had her work shown in Chicago, Dallas, San Francisco, Los Angeles, Washington DC, and Paris. In 2014 she was selected as a Featured Artist for the citywide annual event Chicago's Artist Month. In 2017 Leonard represented the Beverly ward in the "50 x 50" show at the Cultural Center. She is a member of the group "Artist Interpret Shakespeare" who has exhibited at the Elmhurst Museum, Addington Gallery. The group was also featured in the documentary "Chicago Our City, Our Shakespeare".
In 2017 Leonard presented a performance/dance entitled "Wandering Bird" which was first performed at the Beverly Art Center. For the dance segments she collaborated with Sandra Kaufmann, a distinguished choreographer and dancer. Leonard also has designed interactive costumes for museums including the Art Institute of Chicago in celebration of the Bauhaus 100th anniversary.
ARTIST STATEMENT
In my work I create images that evoke a sense of mystery, an ambiguous narrative. I start each fabric painting intuitively, organically. I then go back into the painting and start working with the forms that have emerged blending spontaneity with deliberation. There is a dependence on chance, although retaining a controlling hand. I use imagery from nature, stylized foliage and absurd creatures, suggesting playful stories that draw the viewer into  dreamlike landscapes. The viewer brings their own perceptions deciding what the story is. In the words of Joan Miro "1st stage is unconscious and 2nd is carefully calculated.  The viewer is left to interpret the composition". Some of these paintings are incorporated into my wearable sculptures transforming the wearer into a painting as well as sculpture.
My primary interest with my costumes is creating living sculpture to challenge traditional perceptions of what sculpture can be. By integrating sculptural elements with the figure I create unique forms for the body. The costumes are then used in theatrical dance and performance collaborations, Visual Theater. When collaborating with performers to interpret the costumes, a reciprocal dynamic is set up as the costumes often impede motion therefore, dictating and or influencing movement. The resulting performances bring the costumes to life transforming the wearer into kinetic sculpture. My intention is to bridge art and theater by integrating sculpture with movement.
---
GALLERY HOURS & VISITOR INFORMATION FOR COVID-19 GUIDELINES
This exhibition will be held in the Second Floor Gallery + Atrium of the Evanston Art Center (EAC). All visitors are required to wear face masks. Please adhere to 6' social distancing requirements when in the gallery space. 
Gallery Hours
Monday - Friday: 1 pm - 6 pm
Saturday & Sunday: 9 am - 4 pm
---
HOW TO PURCHASE ARTWORK
If you are interested in purchasing artwork on display, please contact Cara Feeney, Director of Exhibitions, at [email protected] or (847) 475-5300 x 107.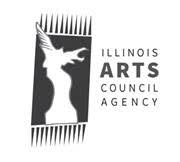 This project is partially funded by the Illinois Arts Council, a state agency.
Artwork shown (L to R): Sandra Leonard, Composition in Black and White with Trumpet Flower, 2020; Sandra Leonard, Composition in Black and White, 2021