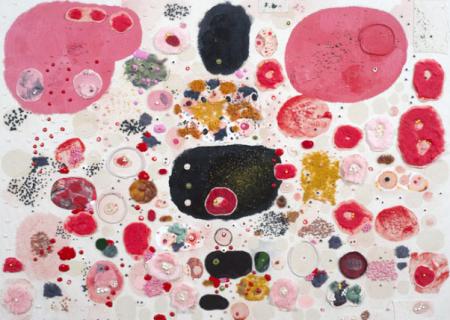 February 20 to April 17, 2011
Exhibiting artists include: Jerry Bleem, Carolynn Desch, Christa Donner, LJ Douglas, Annie Heckman, Paul Nudd, Lindsay Obermeyer, and Susan Smith Trees as well as visiting artists Alison Hiltner, from Minneapolis, Minnesota, and Barbara F Kendrick, from Urbana-Champaign, Illinois.
This exhibition, curated by Susan Sensemann, investigates dream and reality in biology, in a variety of mediums including painting, drawing, sculptural installation, and fiber art. Artists in this exhibition evoke the Enlightenment-era identity of mystical and medical discovery; their works look inside the human body in the hope of reconciling the quickly evolving world of clinical science with the un-mined depths of the psychic, the dreamlike, and the imaginary. 
Sensemann states, "The domain of these artists is a spectacle of the unknowable. They question what is inside the body as a search for the definition of what we are outside… What lies below the surface; organs, blood, cells, neurological, skeletal, cardiovascular, and muscular systems allow us to maintain our beings as humans who then can inhabit unique realities." 
Susan Sensemann is a working artist, arts administrator, and Professor Emerita at the University of Illinois at Chicago. Sensemann has exhibited nationally and internationally and curated numerous exhibitions including: "Tangential Pleasures", "Brain/Body", "Heat", "Skew: The Unruly Grid", and "Once Upon a Time and Now" at the Evanston Art Center.
Click here to view more images from "Physio/tasma/gorical"
Artwork in order of appearance: Paul Nudd, Barbara F Kendrick, Jerry Bleem