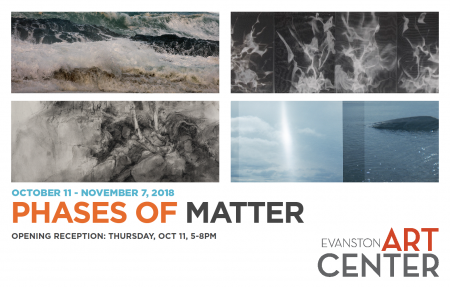 October 11 - November 7, 2018
Opening Reception: Thursday, October 11 from 5 - 8pm
For centuries, cultures have identified and classified the physical world into earth, air, water and fire. Ancient concepts of these four classical elements are connected to current environmental issues that necessitate a renewed, more mindful approach to how our actions impact the Earth and how we envision the future for subsequent generations. These ancient conceptions and current issues combine to provide contemporary artists the means to interpret, respond and react to the physical forces at work within their creative environments.ÔÇô Michelle Nordtorp-Madson, Art Historian and Professor Emerita ÔÇô University of St. Thomas, St. Paul, MN
In this exhibition interpretations by four artists consider natural phenomena and ideas of transformation.  The four elements are represented by two and three-dimensional artworks that explore the physical world with unique use of materials and insights. Viewers are invited to interpret and respond to these works, resonant with spiritual contemplation as well as environmental concerns.
Featured artists include Bernice Ficek-Swenson, Linda Gammell, Ann Ginsburgh Hofkin and Holly Newton Swift.
ARTIST BIOS
Bernice Ficek-Swenson
Minneapolis based artist Bernice Ficek-Swenson is known for her work in copper plate photogravures and digital installations that explore the elemental forces of nature using stone, ashes, fire and water. She has exhibited nationally and internationally, and has had artist residencies in Chicago, Hong Kong, Greece, Newfoundland and Mexico. Ficek-SwensonÔÇÖs work is in book arts, printmaking and photography collections including the Athens School of Fine Arts - Greece, Carleton College, Frederic Weisman Art Museum, Minnesota Historical Society, Minneapolis Institute of Art, Museum of Contemporary Photography at Columbia College Chicago, Scripps College, the Wittliff Collections -San Marcos, TX, University of Vera Cruz - Xalapa, and the Zimmerli Museum. In 2017 and 2012 she received Minnesota State Arts Board Artist Initiative Grants and the 2012 CAS Excellence in Creative Activities at the University of Wisconsin - River Falls, where she is Professor Emeritus.
Linda Gammell
Linda GammellÔÇÖs work has been exhibited nationally in private galleries, non-profit spaces, and museums. Her photographs and artist books are included in the collections of the Minnesota Historical Society, Walker Art Center, the National Museum of Women in the Arts, and the Minneapolis Institute of Arts. She is the recipient of a number of fellowships and artist grants, including the Bush Artist Fellowship, McKnight Fellowship, Jerome Travel Grant, and the Minnesota State Arts Board. She was a founding member of WARM, the WomenÔÇÖs Art Registry of Minnesota, which was acknowledged for its contribution to women and art in an exhibition and book curated by the Weisman Art Museum, University of Minnesota. She is co-collaborator of The FarmersÔÇÖ Daughters Project exploring issues of women and food, agriculture, and rural life.
Linda has an MFA from the University of Minnesota and has taught photography for 25 years at various institutions, including the Minneapolis College of Art and Design, where she was associate professor of media arts for 18 years, the Colorado College, St. Olaf College, Hamline University, and the College of Visual Arts.
Ann Ginsburgh Hofkin
Ann Ginsburgh Hofkin studied philosophy, mathematics, and music at Mount Holyoke College and earned a masterÔÇÖs degree from Bryn Mawr College. In 2001, she was among several individuals selected to participate in a cultural exchange to work with artists in Israel. Ginsburgh Hofkin has had eight solo exhibitions of her photography in Israel, as well as one-person shows at other venues such as the Mount Holyoke College Art Museum in South Hadley, Massachusetts; A.I.R. Gallery in New York City; Weill Art Gallery at the 92nd Street Y in New York City; Sande Webster Gallery in Philadelphia; Nina Bliese Gallery in Minneapolis; Quarter Gallery, Regis Center at the University of Minnesota; the Phipps Center for the Arts in Hudson, WI; and the Bloomington Art Center in Bloomington, MN. She was also named a finalist for the Adi Prize for Jewish Expression in Art and Design and was featured in its exhibition at the Israel Museum in 2005. In 2013, she had two one-person shows in Israel: one at the Jerusalem Center for the Performing Arts and the other at Bet Gabriel Cultural Center on the Sea of Galilee. In April, 2014, her work was featured and purchased as part of the Sacred Arts Festival at the University of St. Thomas in Minnesota. In the summer of 2018, Ginsburgh Hofkin was awarded an artist residency at NES in Skagastrond, Iceland.
Ginsburgh Hofkin is represented by A.I.R. Gallery in New York., by Wendy Frieze Gallerist in Minneapolis, and by Swan Vision Gallery in Maiden Rock, Wisconsin. Her photographs are part of numerous private and corporate collections, including those of the Minneapolis Institute of Art, University of South Dakota, University of Colorado (Boulder), College of Saint Benedict (MN), St. MaryÔÇÖs College (MN), Wynnchurch Capital (IL), Hennepin History Museum, Minnesota Center for Environmental Advocacy, Dana Farber Cancer Institute, 3M Company, Mount Holyoke College Art Museum, Woodstock Center for Photography, Medtronic Corporation, University of St. Thomas, Arthur Andersen, Jerusalem Theater (Israel),  Poriya Hospital (Israel), Massachusetts General Hospital, Adath Jeshurun Congregation (MN), Park Nicollet WomenÔÇÖs Center (MN), and Fidelity Investments.
Holly Newton Swift
Holly is a painter whose work represents the search for the interconnections between the natural elements and the experience of place. Relocated several times throughout the U.S., and finally moving to Minnesota with her husband, Bill, she found locations on the Lake SuperiorÔÇÖs North Shore that she has returned to for over 20 years. These remote and pristine locations have been the most powerful influence as the subject of her work.
A native of Illinois, Holly received her Masters Degree from the Art Institute of Chicago. She has 25 years of teaching experience in Drawing, Painting and Design. Her work is found in both private and public collections which include Minnesota History Center, Voyageurs National Park, Minnesota Department of Transportation, Saint Paul Ramsey WomenÔÇÖs Clinic, Macalester College, Hill Country Arts Foundation, Texas, and Izumi City Hall, Japan. She is a recipient of three artists residencies. Holly is one of four artists featured in the film ÔÇ£Painting the Place BetweenÔÇØ directed by Kristin Lowe. She is currently represented by Groveland Gallery in Minneapolis, Minnesota.