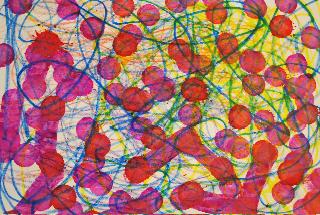 August 19 - 21, 2011
Outside In is a show focusing on the creative process in those who lack traditional art training: more specifically, children and teens with autism spectrum disorder. It explores art as a communicative outlet.
This exhibition is the culmination of a project funded by Northwestern University's Weinberg Summer Grant - a research grant that provides funding for undergraduates to conduct independent projects. This project is multi-faceted in its goals: exploring what art methods are conducive to those with autism, providing a creative and communicative outlet, and building an area of self esteem and social engagement in these youths.
Additional support for this art project is from the Evanston Art Center, which generously donated exhibition space and Have Dreams, which served as art studio and classroom for the summer. 
Furthermore, the Evanston Art Center would like to thank Kyle Frost from Have Dreams and Paula Danoff, Director of Communications and Development at the EAC for making this exhibition possible in the Art Center space.