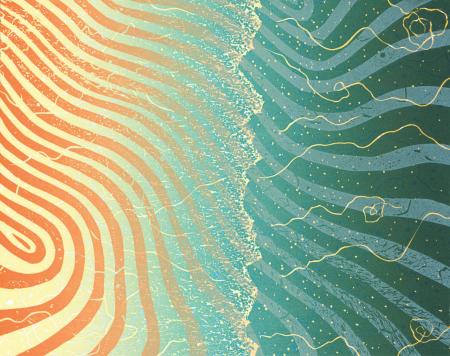 June 3 – July 29, 2012
The opening reception on Sunday, June 3 attracted over 150 guests. Several participating artists joined curators Karen Hanmer and Vera Scekic in a conversation about their artworks and the relation to the night sky.
Night Sky, which will be on view through July 29, looks to the heavens for inspiration. Humans have used the night sky to navigate, mark the passage of time, and impart meaning to their lives for thousands of years.
As technology has advanced, our connection to the night sky has atrophied—not simply because we have gained greater control of our environment, but also because we no longer can see the Milky Way and many constellations due to light pollution. Night Sky argues for the relevance of a quintessentially human activity: looking up at the stars. The purpose of the exhibition is to reacquaint viewers with an experience that is in danger of extinction and explore the possibilities for reconnecting with a vital part of our biological, historical and cultural heritage.
Curated by: Karen Hanmer and Vera Scekic. Participating artists: Jerome Acks, Maria Dimanshtein, Wendy Fernstrum, Kate Friedman*, Miriam Jordan, Jason Judd, Rachel Katz, Karen Kunc, Jason Meyer, Bridget O'Malley, Susan Sensemann, Pati Scobey, and Ryan Thompson.
*Kate Friedman's project, "Returning to the Stars," is realized by Sarah Krepp and the following artists:
Dan Brauner, Aza Quin-Brauner, Cameron Fiedman Coates, Ethan Friedman-Brauner, John Friedman, Peter Fraterdeus -
Beth Adler, Mara Baker, Margot Bergman, Robert Burnier, Michael Finnegan, Susan Frankel, Alice George, Linda Robinson Gordon, Ellen Gradman, Stacia Lipinski, Tom Miller, Rob Mueller, Karen Patinkin, Joe Perz, Olivia Petrides, Mellisa Pinney, Selene Plum, Eric Schrempp, Casey Sills, Oehme Soule, Anne Stevens, Michelle Stone, Tanya Sugarman, Ginny Sykes, Susan SmithTrees, and Cynthia Weis.
Reviews
http://www.chicagoreader.com/Bleader/archives/2012/06/01/kate-friedman-returns-at-the-evanston-art-center
http://northbrook.suntimes.com/entertainment/12746553-421/night-sky-visible-at-evanston-art-center.html
http://art.newcity.com/2012/06/19/review-night-skyevanston-art-center/