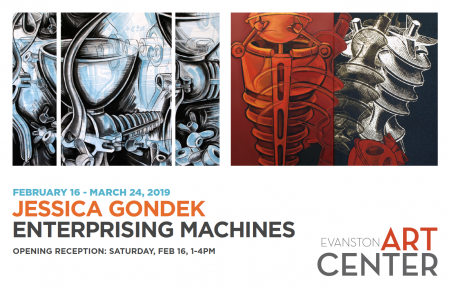 February 16 - March 24, 2019
Opening Reception: Saturday, February 16 from 1 - 4pm and Artist Talk at 2:15pm
ARTIST BIO
Jessica Gondek was born in Urbana, Illinois in 1969.  She is an artist/teacher living in the Chicago area. Ms. Gondek received her M.F.A. from Washington University in St. Louis in 1992, and her B.F.A. from the School of the Art Institute of Chicago in 1990.
Jessica Gondek joined the faculty at Loyola University Chicago in 1996, and is currently a tenured Associate Professor in the Department of Fine and Performing Arts teaching Drawing and Painting. Prior to teaching at Loyola University Chicago,  Ms. Gondek was an Assistant Professor at Southwest Texas State University in San Marcos, and a Visiting Assistant Professor at Carnegie Mellon University, in Pittsburgh.
Ms. Gondek has received a number of prestigious awards and residencies recognizing her creative work over the years. Notable is a Pollock-Krasner Foundation Artist Grant (2002), a Graham Foundation for Advanced Studies in the Fine Arts Grant (1999), and a Mid-America Arts Alliance National Endowment for the Arts Grant (1994). Ms. Gondek has been recognized with a number of international artist residency awards. She has been an artist in residence at the Can Serrat International Art Center in Spain (2008), and at the Frans Masereel Center in Belgium (2006-2000). Her selection for these awards is testimony to the significance of her work.
Jessica GondekÔÇÖs work is widely exhibited and has her work is represented in many public collections. Her work is in the collections of the New York Public Library, Kresge Art Museum, Spencer Museum of Art, Butler Institute of American Art, Purdue University Galleries, Washington Jefferson College, Lincoln Bank and Insurance Co, Loyola Museum of Art, the Frans Masereel Center, and the Royal Museum of Fine Arts Antwerp.
Ms. Gondek has contributed to the cultural life of Illinois with solo exhibitions at: ARC Gallery and Educational Foundation (2019, 2016, 2014, 2012), College of Lake County (2016), Harold Washinton Library Center (2012), Loyola University Harlan J Berk Ltd. Gallery (2010), McHenry Community College (2010), The Beverly Art Center (2011), Northern Illinois University Museum of Art (2009), and the Aurora Public Art Commission (2008), Elgin Community College Saftey Kleen Gallery One (1998).  Her work will be featured in several upcoming Illinois exhibition venues in 2019 including: the Evanston Art Center (three-person exhibition,) Black Hawk College in Moline (solo show) as well as a ARC Gallery and Educational Foundation (solo show).
Ms. GondekÔÇÖs work is gaining growing national recognition with a recent 2017 solo exhibition at the prestigious A.I.R. Gallery in Brooklyn, the first womensÔÇÖs collective in the United States. Her work has been selected in numerous national juried exhibitions including: 31st McNeese National Works on Paper, Monroe LA (2018), Ink & Clay 43, Pomona CA (2017), Stand Out Prints, Minneapolis MN (2016, 2012),  35th Artlink National Printmaking Exhibition, Fort Wayne IN (2015),  First Street Gallery New York NY (2013), Harnett Biennial of American Prints, Cincinatti OH (2012), Global Matrix III International Print Exhibition West Lafayette IN (2012), Prints USA 2011, Springfield MO,  and Americas 2011:Paperworks National Exhibition, Minot ND . Ms. GondekÔÇÖs work has been written about by the prestigious american art critic, Donald Kuspit, concurrent with her 2013 solo exhibition at Phoenix Gallery, New York,  the essay may be found on the artistÔÇÖs website.
Jessica Gondek is active in several womenÔÇÖs collective galleries.  She is an affilate gallery member of ARC Gallery and Educational Foundation.  She has shown at Woman Made Gallery in Chicago, Ceres Gallery in New York, and A.I.R Gallery in Brooklyn. She has been invited to show in a Nevertheless She Persisisted: Women of Courage, Tenacity, and Strenght at the Koehnline Museum of Art on display at Oakton Communicty College fall 2018.
ARTIST STATEMENT
The primary focus of my work is abstract stemming from an interest in technology, geometry, machine aesthetics, architecture, and nature.  My work explores a dichotomous relationship between the hand and the machine that has evolved over time. This creative journey has taken me from work engaged in 3D modeling to create forms and compositions to recent explorations of gendered domestic machines from the early part of the twentieth century referencing trade catalogues and actual utilitarian objects.  These works hold in common a marriage of both traditional media and digitally mediated computer approaches intrinsic to the development of the images. The mechanical forms within these compositions are simultaneously transformed asserting an animated physical presence and internal narrative.
My aesthetic concerns can be traced back to several art historical references.  Some of these paradigms can be found in Da VinciÔÇÖs inventions and war machines, PiranesiÔÇÖs whimsical and ominous architectural spaces, the FuturistÔÇÖs works celebrating technology, and the Pre-Dada works of Duchamp and Picabia that take a more uncertain view on technology are yet another influence on my work.   I share in common with contemporary artistÔÇÖs such as Willie Cole and the late Illinois artist Ellen Lanyon an interest in machines and transformation that results in new machines that take on anthropomorphic qualites and connect to the human condition.
My creative process often incorporates the application of current technology with the intent of using both hand and mechanical approaches to develop my work. I build compositions on the Apple Computer platform.  I use a range of programs to create images; 3-D modeling software has direct engineering applications and allows me to construct images in a manner that brings me to a sculptural understanding of the forms I create on the desktop. Photoshop subequently allows me to investigate appropriation, tranparency, and layering, and the manipulation of imagry.
My recent work endeavors to blur the line of distinction between the hand and machine. This ongoing series is entitled, Enterprising Machines; these works are comprised of charcoal and pastel drawings on paper developed on top of digital print substrates, as well as oil and digital print on canvas.

The forms I explore are inspired by domestic utilitarian objects as well as vintage trade catalogues.  I have researched several sources including a 1902 publication, entitled ÔÇ£The Enterprising Housekeeper Catalogue and Recipe BookÔÇØ  from the Enterprising Machine Company, and a 1900 publication ÔÇ£ Machine Tools.ÔÇØ, from Pratt and Whitney Company.  Digital manipulations from vintage advertisements for fashionable consumer gadgets of the past era are the foundation that launches a modification of context for these works. The digitally printed elements are generated often in the cyan color to recall blueprints or plans that create a base for the drawings.  The drawing medium allows for both transparency and mutability between layers of information. The resulting images are machines that wield their own power.
CLICK HERE to view more artwork by Jessica Gondek.