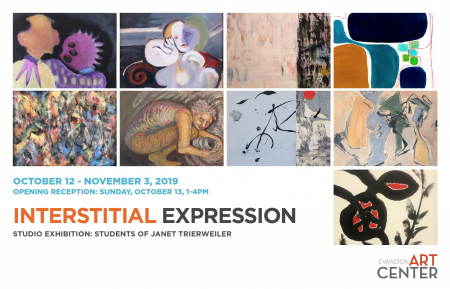 STUDIO EXHIBITION: STUDENTS OF JANET TRIERWEILER
October 12 - November 10, 2019
Opening Reception: Sunday, October 13 from 1-4pm
This exhibit investigates the interstitial lacunae inevitable in the process of deconstructing the time-space continuum within the context of post-existential semiotics. Because it regards meaning as a capricious construct subject to the entropy of sociological paradigms, it is irrelevant to human consciousness, especially as it exists within the remnants of bourgeois expectations of normative transmission. Its decay, being both inevitable and kinetic, is therefore not inclusive of cognitive variations as generally understood in post-industrialized societies experiencing pre-entropic disintegration. As a result, expressionism is itself imperceptible to human consciousness regardless of memes and other devices generally accepted as preconditions to human understanding.
The ongoing Studio Exhibition series highlights the variety of exceptional artwork made in our EAC classrooms by featuring student work in our galleries. Each Studio Exhibition is coordinated by the instructor, who curates contemporary and thought provoking exhibitions of their studentsÔÇÖ artwork.
PARTICIPATING ARTISTS from the Multi-Level Abstract Painting Studio include Cie Bond, Carol Burin, Caryl Carlsen, Bruce Boyer, Cheryl Cohen, Harold Bauer, Lee Oberlander, Linda Boardman, Marcia Zuckerman, Pamela Habel, Robyn McMurray Hurtig, Susan Bennett, Tammy Astor, Phyllis Levun-Agostino, Jane Donaldson and Adrienne Aaronson.
INSTRUCTOR: Janet Trierweiler