ON VIEW: September 26 - November 1, 2020

Meet the Artist: Sunday, October 4, 2020
Hiromi Tanaka was born and raised in Tokushima, Japan. Her paintings are impacted by the nature of her childhood memories, a wildflower field, cherry blossom, Japanese garden and more. She has been painting since she was a little girl, but her interest in fashion made her open a fashion boutique in her early 20's. Despite her business success, she wanted new challenges so she moved to New York in 1990 and started painting again. She stayed in the city for a few years, moved to San Francisco and then moved to Chicago to study at SAIC (1994 to 1997) where she received her BFA. Since graduating, she has been living and working in Chicago.
ARTIST STATEMENT
on nature and painting
I have always enjoyed observing nature and the world around me.  Painting provides me the ideal medium for recording my impressions.  My work focuses on the combination of colors and forms that I encounter every day.  I begin each painting with simple iconography that I build upon layer by layer.  It is this layering that allows my impressions to be presented with balance and subtlety.  Each piece has a distinct relationship with the real world surroundings that has inspired it. Whenever I walk outside, I am inspired by small things that I have never appreciated before.  It might be a pattern on tree bark or a stone resting in an interesting position next to a flower.  I am continually seeking to express such nuances of nature in my work.  Through this process my paintings develop their own voice and message. I am always amazed that when I have completed a painting, its voice continues to show me new things each time I view it.  From this reciprocal relationship with my previously completed works, my perceptions of the world continue to grow.
---
GALLERY HOURS & VISITOR INFORMATION FOR COVID-19 GUIDELINES
This exhibition will be held in the Main Second Floor and Atrium Gallery of the Evanston Art Center (EAC). When arriving at the EAC during our Gallery Hours, please wait outside and call us at (847) 475-5300 for entry. All visitors are required to wear masks and take their temperature upon entry using provided gloves, and share results with an EAC staff member. Please adhere to 6' social distancing requirements when in the gallery space. 
Gallery Hours
Monday - Friday: 1 pm - 6 pm
Saturday: 10 am - 4 pm
Sunday: 12 pm - 4 pm
---
HOW TO PURCHASE ARTWORK
If you are interested in purchasing artwork on display, please contact Cara Feeney, Director of Exhibitions, at [email protected] or (847) 475-5300 x 107.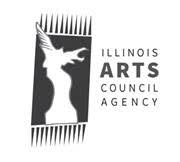 This project is partially funded by the Illinois Arts Council, a state agency.