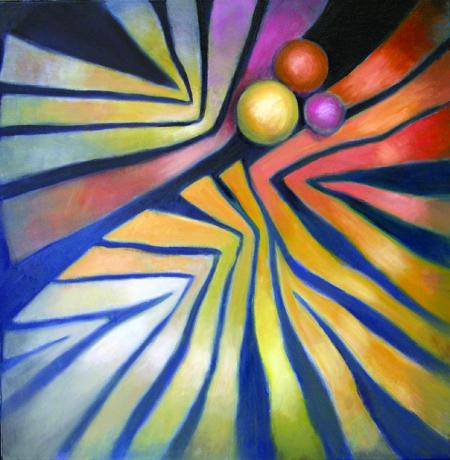 Evanston City Manager, Wally Bobkiewicz and Art Center Executive Director worked together to organize a new community exhibition space in the Lorraine H. Morton Civic Center.

The second exhibition titled: "Driven to Abstraction: drips, cubes and fields of color" which will be on view through August 19 features the works of artists Bill Anders, Harold Bauer, Elizabeth Bolich, Gail Cotovsky, Melanie Deal, Judy Edelman, Anne Hayden Stevens, Ruyell Ho, Barbara Horowitz, Sarah Kaier, Sharon Knipmeyer, Jim Lange, Joan B. McLane, Katherine Nemanich, Martha Ruschman, Sharon Swidler, Christopher Voss, Barbra Wagner and Esther Williams-Hays.
Out on Long Island, New York around 1950, the artist Jackson Pollock changed forever the way artists would consider approaching their art making. He took the canvas off the wall and laid it on the floor, using the weight of gravity, common materials and his physicality to create paintings without rigid composition that made the process (flinging paint onto the canvas like an athlete/dancer) and materials (ordinary house paint) not only acceptable, but a brilliant next step in the history of art.
This 'action painting' gave permission for all sorts of amazing things: Richard Serra flinging hot lead into a corner, Eva Hesse hanging fiberglass-covered strings and rope pieces, Brice Marden making elegant lines in encaustic, and Robert Smithson pouring asphalt down a hill.
The significant artists who looked at Pollock's work didn't just copy it, they reinterpreted it. This is what artists do – they take the visual energy inherent in a new way of seeing and see it yet another way, through their own inner wiring and synthesis often in reaction to what is going on in the world at large.
Kirk Varnadoe, former Chief Curator of Painting and Sculpture at the Museum of Modern Art and teacher at New York University's Institute of Fine Arts, pointed out during his Mellon lecture series that the minimalists took the "idea of wholeness or simplicity" from Pollock's canvases. This "allover evenness" is visible in minimalist works consisting of grids, measured lines and white paint on white, or black paint on black.
Although it may be easy to think that the ultimate goal of abstraction and minimalism is to create "the last painting", Varnedoe argued that "it's more like hypertext where the line from A to B goes out in a million possible and ever more complex directions."
The artwork on view in Gallery 4502 proves his point.
The current 'Abstraction' show is free and open to the public during Civic Center hours. It's a good idea to call Wally's office ahead of time just to make sure the space hasn't been booked for a meeting. So if you're at the Civic Center for other business, please stop up to the fourth floor and view the artwork. And please thank Kate Todd, Wally's assistant for preparing a wonderful cookie and punch opening night snack for guests.