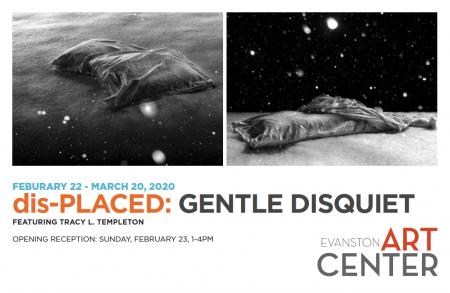 Featuring Tracy L. Templeton
February 22 - April 30, 2020
Opening Reception: Sunday, February 23 from 1-4pm
dis-PLACED is an evolving suite of prints on paper and textiles that balance elements of absence, journey and transformation. Tracy Templeton produces work that refers to the larger implications of global issues and the universality of the human condition using imagery that points to the smaller, more intimate challenges faced by individuals. Influenced by the current refugee crisis the series adds elements of nature to create an obscure world of beauty as well as a gentle disquiet.
dis-PLACED is reflective of Templeton's notion that it is fundamentally necessary for everyone to engage in physical or spiritual journey in seeking their own sanctuary. 

The snowy night sky and crumpled sheets imply an unsettled sense of unease found in moments of uncertainty, while the soft sheets and pillows imply the necessary rest and dreams essential to personal journey. Together they are sublimated into poetic expression.

In creating this multi-layered work, Templeton makes full use of a hybrid printmaking techniques that combines textiles, digital photo print, chine coll├®, and drypoint etching.  
This new work captures ambiguous, surreal landscapes where one might take refuge, dream, or rest, creating a sense of haven from which to navigate the next step of oneÔÇÖs passage as guided by the lay of the land, wind, or some distant constellation. The images invite viewers to immerse themselves in a topography of emotion evocative of visceral moments.
ABOUT THE ARTIST
Currently head of printmaking at Indiana University, Bloomington, Templeton has exhibited widely in the United States and Canada, where early in her career she received Third Prize at the Great Canadian Printmaking Competition. Her work is recognized across Europe, Asia, and South America and has been featured at print biennials in Malaysia, Poland, Russia, Italy, Japan, and Seoul, where she received a Purchase Award at the 14th International Print Biennale in 2006. In 2019 she was awarded Honorable Mention at the 2nd International Print Biennial in Yereven, Armenia. Templeton has had more than twenty solo exhibitions at major museums, institutions, and galleries, including the MacKenzie Art Gallery, Regina; Anchor Graphics, Chicago; Instituto Superior de Arte Santa Ana, and Project ├üce in Buenos Aires, Argentina. Her prints appear in more than thirty different collections worldwide, and her work has been published in more than sixty different books, magazines, catalogs, and journals, including The Canadian Encyclopedia; Great Canadian Printmaking; and Grapheion: European Review of Modern Prints, Book, & Paper Art. Recently, she has begun incorporating textiles, large-scale digital printing and gold leafing into her work as featured in the exhibit INTERÔÇóWOVEN in ┼ü├│d┼║, Poland, The Second International Triennial of Contemporary Graphic Arts in Novosibirsk 2018, ÔÇ£PandoraÔÇÖs BoxÔÇØ at the Novosibirsk State Art Museum in Novosibirsk, Russia; Departures: Masterpieces of Contemporary Canadian Printmaking at the ARDEL Gallery of Modern Art in Bangkok, Thailand, and Third Printmaking Biennial 2018 at the City Cultural Centre, Cacak, Serbia. In 2019 she will be exhibiting new works on the topic of displacement in two solo shows in Japan.
Virtual Gallery Tour of disPLACED: Gentle Disquiet: